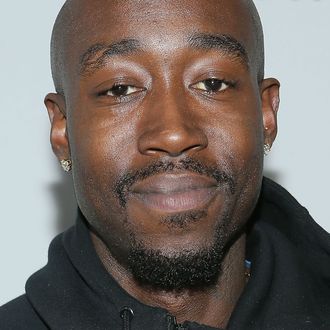 Gibbs.
Photo: Mike Windle/Getty Images
After being arrested on accusations of rape and extradited to Austria, Indiana rapper Freddie Gibbs has been formally charged with sexual assault, the AP reports. Gibbs (né Fredrick Tipton) was arrested in France in June on claims that he drugged and raped a woman while on tour in Vienna, Austria, in July 2015; he was recently brought back to Austria from France to face the charges. According to local law enforcement, Gibbs allegedly "administered knock-out drops to a woman and then abused her sexually while she was in a defenseless state." (Another woman also says she was sexually assaulted by Gibbs's bodyguard during the same incident, though it is unclear whether he was also charged.) Lawyers for Gibbs have denied the accusations and originally tried to fight the order for his extradition. If convicted, Gibbs could face up to ten years in prison.
Update, September 30: An Austrian court has acquitted Gibbs of the sexual-assault charge, finding him not guilty of "sexual abuse of a defenseless or psychologically impaired person." In a statement, Gibbs's lawyers say the rapper and his family will be returning to America shortly. Gibbs had spent four months in French and Austrian jails.