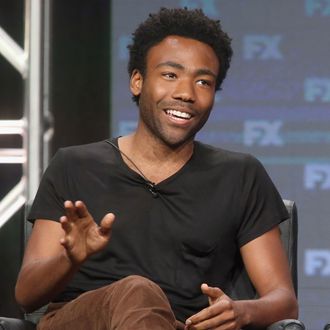 Photo: Frederick M. Brown/Getty Images
Donald Glover's new FX dramedy Atlanta may be about attempting to break into the music industry, but don't get it confused with a certain popular Fox series. Tonally speaking, it couldn't be more different. "The thesis with this show is kind of to show people how it feels to be black," Glover told journalists on Tuesday at the Television Critics Association press tour. "You can't really write that down; you have to feel it. The tonal aspect is really important to me … I always want people to feel scared because that's what it's like to be black."
Here are a few more things we learned about Atlanta at the TCA panel for the series, premiering September 6 on FX.
Expect the abstract.
"There really isn't a limit as to how abstract it can get," said Glover. "If you have something that is grounded on some level, you can go anywhere, and people want to go with you." He added that "this show is about life. Life has more questions than answers … Millennials feel like they know everything, but you can't get the answers that you really want out of Google."
Glover may have his own music career, but he didn't want to play a rapper on Atlanta.
"That would be weird," Glover said. "I wouldn't have enjoyed that. It's possible to do that within the show, but it just clouds a lot of things. If David Bowie made a show about him being a rock star, you could definitely watch it, but then you'd be like is this dude playing me? There's a level of magic realism and suspended disbelief that you need for all genres."
Well-known rappers will guest star, but they may not be recognizable to everyone.
Glover said that Atlanta musicians will be featured in the show, but added that he's not trying to be Empire. "There are cultural things that are very specific — black people will be like, 'Oh I know this person; they're popular for this reason,'" he said.
The city itself is very much a character.
"Black people run Atlanta; it is our city," said co-star Brian Tyree Henry. "It's the one little hub that I feel wants other people to come in and bring what they want and also expand what we already have. The language of Atlanta is more of how we talk and how we dress. It's the embodiment of the people."
Glover doesn't feel bad about Community ending.
"I just like endings," he said. "I think everything should have death clauses in it … I mean, like, thank God, one day Trump is going to die. That's a guarantee. That's awesome. It's important that things end because it forces things to progress."