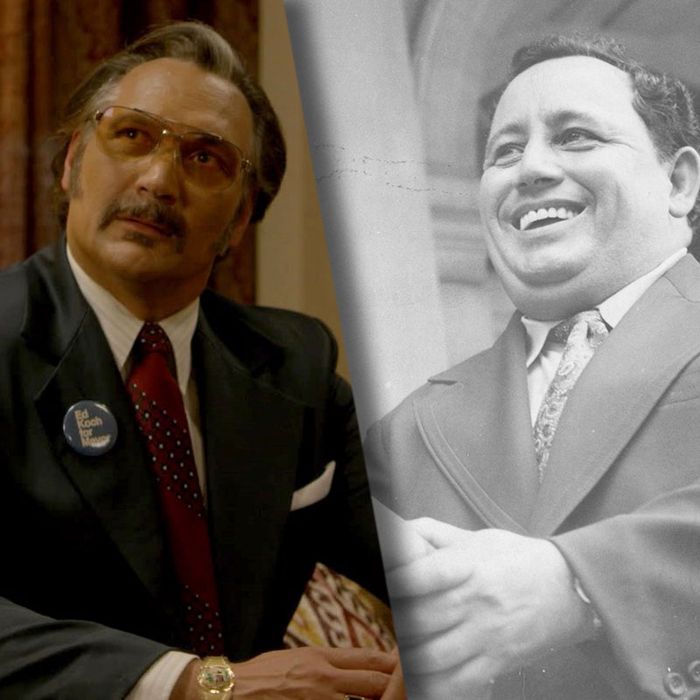 L-R: Francisco Cruz in The Get Down, Ramon S. Velez in real life.
Photo: Anthony Calvacca/New York Post Archives/NYP Holdings, Inc. via Getty Images
Beyond the real 1970s news footage and commentary woven into The Get Down, Baz Luhrmann's music-infused drama that's equal parts teen love story and ode to the origins of hip-hop, the hyperstylized extravaganza gets its street cred courtesy Luhrmann's crew of collaborators: Grandmaster Flash, Kurtis Blow, DJ Kool Herc, the Furious Five's Rahiem, Afrika Bambaataa, and hip-hop historian Nelson George. But what's fact and what's fiction in the period piece set in New York City's South Bronx, which tells the tale of aspiring DJ Shaolin Fantastic (Shameik Moore) and disco singer Mylene Cruz (Herizen Guardiola) as they vie for the attention of orphaned poet-pianist Ezekiel "Zeke" Figuero (Justice Smith)? We break it down. Spoilers ahead for the first six episodes of The Get Down.
PEOPLE

Francisco 'Papa Fuerte' Cruz (Jimmy Smits)
Backstory: Mylene's leisure-suited Puerto Rican power-broker uncle is called a "poverty pimp," and gets funds from Mayor Beame while working out of a community center that bears his name. Soon he's convinced to back Edward Koch over Beame for mayor — when he's promised $10 million for his pet housing project.
Fact, Fiction or Inspired by: Ramon S. Velez, the son of a Puerto Rican farmer, was once called a "poverty pimp" by Koch, who later revised his opinion of the Bronx kingpin and lawyer, saying no evidence of corruption could ever be tied to the man known variously as "El Jefe" ("the boss"), "Don Ramón," and "El Padrino" ("the godfather"). Velez built a government-funded center in the South Bronx that provided medical and social services, and was credited with turning the National Puerto Rican Day Parade into a major event.
Fat Annie (Lillias White)
Backstory: "I got this here club, plus the disco downstairs, plus three after-hours joints, prostitution, gambling, numbers, a day-care center, and I still got time to control half the cocaine in the Bronx," declares the crime boss in the first episode. She wants to expand her operation into Harlem, presumably with the help of her tricked-out gangster son, Clarence a.k.a. "Cadillac" (Yahya Abdul-Mateen II). But he's more interested in disco dancing, and writing bad songs like "Boogie Oogie Disco Biscuit." The only thing standing in the way of Annie's expansion is Nicky Barnes. "What kind of drug dealer poses on the cover of Time magazine?" the crime boss asks about her Harlem competitor.
Fact, Fiction or Inspired by: While Fat Annie is pure invention, Leroy "Nicky" Barnes isn't. He was responsible for distributing most of the city's heroin and expanding his operation to Pennsylvania and Canada in 1976. In 1977, he did land on the cover of The New York Times Magazine with the headline, "Mister Untouchable."
Roy Asheton (Eric Bogosian)
Backstory: Episode three opens with Marrakech Star record president Roy Asheton boasting about his label's history-making year, and we get a shot of Star Maker magazine's "exclusive interview with the man behind Donna Summer and Misty Holloway."
Fact, Fiction or Inspired by: Neil Bogart's Casablanca Records, which the former Buddha Records exec started in 1973, and named after the classic film, seems to be the model for Asheton and his label. Casablanca's big disco acts included Donna Summer and the Village People. Bogart didn't live to be as old as the ruthless Asheton, dying of cancer at age 39.
Jackie Moreno (Kevin Corrigan)
Backstory: When Jackie goes to see Asheton to get money to make a demo of Mylene in episode three, Asheton says no, despite the fact that Moreno once helped put many of the gold and platinum records on his wall. When the washed-up producer gets more than enough money from Mylene's uncle, Francisco, to record, Jackie pays off his gambling debts, and then goes on a coke binge while trying to write her a hit song.
Fact, Fiction or Inspired by: Jackie doesn't have any roots in reality, although Giorgio Moroder, a prolific Italian producer who discovered Donna Summer in Europe and co-wrote and produced many of her hits, and Jacques Morali, a French songwriter and producer who created the Village People, may have helped inspire the successful aspects of the character. Both producers had long relationships with Casablanca Records.
Marcus "Dizzee" Kipling (Jaden Smith)
Backstory: Zeke's best friend, the eldest of the three Kipling brothers, is a graffiti artist who draws "Rumi" and meets fellow tagger "Thor" (Noah Le Gros) in a subway tunnel.
Fact, Fiction or Inspired by: When John "Crash" Matos signed on as a Get Down adviser, the Bronx native, who was stealing paint to "write" on subway cars by age 13, didn't expect he'd become the model for a character. The same goes for Chris "Daze" Ellis, who became the fictionalized "Thor." Like their alter egos, the two met underground — in their case, a South Bronx subway stop nicknamed "the Bench."
Herbert Gunns (Michel Gill)
Backstory: The businessman and supporter of then-Congressman Edward Koch (Frank Wood), turns up in episode four to tell Francisco that rallying his fellow Puerto Ricans behind Koch's bid for mayor will net him $10 million for his pet housing project. Gunns is described as "one of the six kings" on the city's fiscal-control committee working to bring the city back from bankruptcy. Zeke will later land an internship (which is questionable because according to this article, interning didn't really exist back then) in his World Trade Center office.
Fact, Fiction or Inspired by: Though Gunns is fictional, he may have been informed by prominent New York businessman Richard Ravitch, who got his start in his family's construction firm (Francisco mentions Gunns was in construction), and investment banker Felix Rohatyn, who was asked by the governor to help rescue the city in the '70s, becoming chairman of an independent company that sold bonds to finance the city.
Leslie Lesgold (Alexis Krause)
Backstory: After cutting Mylene Cruz and the Soul Madonnas' demo in episode five, Jackie knows he has to get it into the hands of the right gay DJs. But they're so exclusive, he'll need "the record pool," which is run by Leslie Lesgold, "a nice Jewish girl" who knows hits, and passes them on to the hit-making DJs.
Fact, Fiction or Inspired by: Though Leslie isn't real, "the record pool" is. It was the invention of three gay guys in 1975: David Mancuso, Steve D'Aquisto, and Vince Aletti (a music writer and photographer, who now reviews photography for The New Yorker.

Mylene Cruz and the Soul Madonnas
Backstory: By episode six, Mylene is belting out gospel-tinged disco music with her friends Yolanda Kipling (Stefanée Martin) and Regina Diaz (Shyrley Rodriguez) singing backup. 
Fact, Fiction or Inspired by: Though this girl group isn't real, gospel singers like Loleatta Holloway and Albertina Walker had successful careers singing in both genres.
Misty Holloway
Backstory: Mylene's idol is a Donna Summer–like disco singer whose song, "Far, Far Away," we learn in episode one, has been remixed by famed DJ Carlo Pakoussa, and pressed into a rare promotional record that Shaolin swipes from Zeke's hands in the local record store just as he's about to buy it for her.
Fact, Fiction or Inspired by: Though no such singer exists, we'll get more info about Misty when she shows up in a future episode in the form of Hamilton star Renée Elise Goldsberry. Of course, there are many disco divas who may have informed the character, including Gloria Gaynor, famous for "I Will Survive" and "Never Can Say Goodbye"; Candi Staton ("Young Hearts Run Free"); Evelyn "Champagne" King ("Shame"); Cheryl Lynn ("Got to Be Real"); and Alicia Bridges ("I Love the Nightlife").
PLACES

Les Inferno
Backstory: Fat Annie's downstairs disco operation, where the coke flows, and her son Cadillac rules the dance floor.
Fact, Fiction or Inspired by: Les Inferno wasn't real — in the 1970s, Disco Fever became the borough's go-to place for hip-hop fans. It was a local bar when the owner's son, Sal Abbatiello, was introduced to the new music by his night manager. "It was the number one club in New York City from 1979 to 1985," Kurtis Blow told the audience gathered for the club's 38th anniversary celebration in 2015. "I used to emcee there on Tuesday with Grandmaster Flash in the early days of my career."
The Underground House Party
Backstory: When Dizzee goes to a Soho gallery with Thor in episode six, he experiences a lot of firsts: He's told his work belongs in a gallery; he kisses a guy; he sees vogueing drag queens; and he's offered a "superhero pill" (likely a Quaalude). It's also where Carlo Pakoussa is DJing, so Dizzee gets to give him Mylene's demo to play.
Fact, Fiction or Inspired by: Tribeca's Mudd Club, which featured new music and had a gallery curated by Keith Haring, didn't open until 1978. So Dizzie's gallery may be a sampling of Paradise Garage, a downtown gay disco that opened in '77, and the Loft, an invitation-only gay dance party started by David Mancuso in 1970.
"The Mansion"
Backstory: In episode five, Shaolin says he knows a secret spot where the Fantastic 4 Plus One can practice for their upcoming rap battle against the Notorious 3, referring to the abandoned building where they decide Zeke will write raps for all of them.
Fact, Fiction or Inspired by: A Latin dance hall called the Royal Mansion, which was on the second floor of a Bronx building that also had a movie theater, could be the model for the abandoned building where the crew work out their routine.
THINGS
The Blackout
Backstory: When the lights go out, leaving Mylene's mother Lydia stuck in Francisco's office, and Zeke ready to rip off Les Infernos' turntables in episode three, we're in the middle of "one of the worst power outages the city has ever seen," according to the period news footage. The next day we see a black market spring up selling the stuff people stole. "Go get yourself one of those Huckapoo things," Francisco says to Mylene, referring to the popular patterned polyester shirts, and handing her a wad of cash.
Fact, Fiction or Inspired by: On July 13, 1977, during a record-breaking heat wave, a lightning strike actually did plunge the city into darkness for 25 hours. In episode four, veteran newscaster David Brinkley reports on the "arson, looting, mugging, and a thousand false fire alarms" that took place, not dissimilar to the scene after the actual event.
The Savage Warlords Gang
Backstory: We first meet the menacing street gang in episode one when they bust up the record shop where Zeke's found the coveted Pakoussa disc and threaten the store owner. Later, some of the youngest members are rounded up after ransacking Les Infernos. When Cadillac and Annie's henchman kills one of the boys, Shao, Zeke, and the Kipling brothers inadvertently end up tossing the body, which they discover in the trunk of DJ Malibu's white Caddy.
Fact, Fiction or Inspired by: Street gangs ruled the Bronx in the late '60s and early '70s. The 2015 documentary Rubble Kings recounts how crews of organized Latinos and blacks with names like Savage Skulls — who we see in file footage on the show — Ghetto Brothers, Black Assassins, Grim Reapers, and Royal Javelins were constantly at war with each other. In 1971, after a Ghetto Brothers' leader trying to negotiate peace was murdered, the gangs called a truce, and moved away from violence toward music, among other things. (Afrika Bambaataa was once a member of the Young Spades.) So the Savage Warlords we see would've likely been gone by the time this story takes place.
Maxwell's Plum
Backstory: In episode six, Leslie reminds Jackie she gave him a blow job in the back of this famous Manhattan eatery.
Fact, Fiction or Inspired by: Think of the First Avenue hot spot owned by Warner LeRoy, son of film producer Mervin LeRoy, and grandson of Warner Bros. founder Harry Warner, as the '70s Tinder: Its singles' bar was the start of many a one-night stand.
"The Bronx Is Burning"
Backstory: From episode one on, we get a sense of what a burned-out borough the Bronx is — supposedly the result of landlords lighting up abandoned properties for insurance money, and tenants committing arson for subsidies. We see Shaolin run from the Savage Warlords, jumping from one building to another that's on fire. And in episode six, Zeke writes a letter to his dead mother and says the "Bronx is burning."
Fact, Fiction or Inspired by: For a long time, it was thought sportscaster Howard Cosell uttered these words during a 1977 World Series baseball game. It turns out that's not what he said, and rather than arson being the cause of most of the blazes, South Bronx firehouse closings and added response times were mostly to blame for the increased fires.