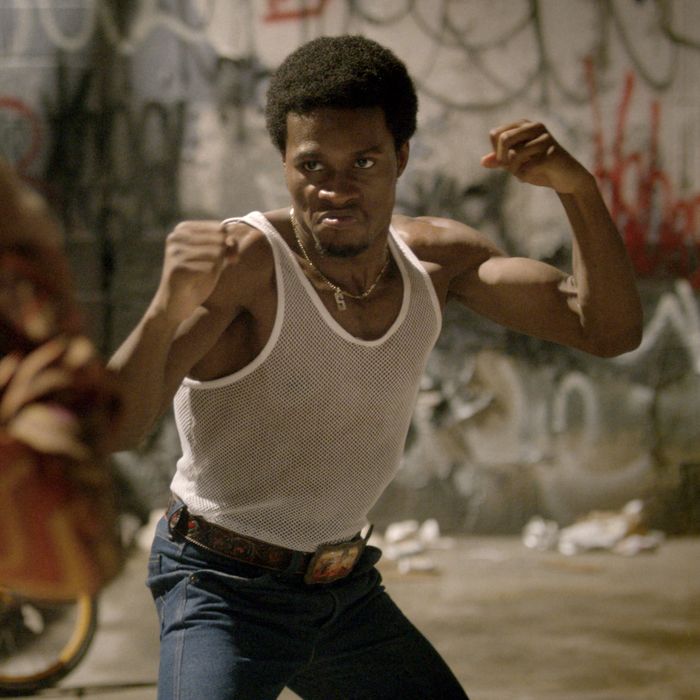 Photo: Courtesy of Netflix
Shaolin Fantastic doesn't just walk into a scene — he flies. He leaps off of buildings, swings around fence poles, bounces off of refrigerators, and flips into a crowd before starting a B-boy dance battle. For the better part of the first episode of Netflix's The Get Down, he's glimpsed only in snatches: red sneakers, a hat, a cloud of dust. More than any other character in The Get Down, Shaolin (played by Shameik Moore) embodies the journeyman. He's the kung fu warrior, someone with nothing more than his hands and feet and wits to hustle his way to the top. As Dead Prez rapped, "They say karate means empty hands, so then it's perfect for the poor man."
Bruce Lee's legacy is everywhere in The Get Down, from the music to the Bruce Lee belt Shaolin wears to the master-student dynamic that runs throughout the show. "Dude, that Hong Kong cinema was synonymous with everything back then," Rich Talauega — who with his brother, Tone, choreographed The Get Down — told me on the phone. Tone added, "Especially with the communities that didn't have a lot. They resorted to that as inspiration and utilized that in their everyday life."
In the 1960s, Bruce Lee was best known in Hollywood for playing Kato in The Green Hornet, the sidekick to Britt Reid. It wouldn't be until the early '70s that Lee would enter the cultural Zeitgeist by way of China. After the show ended in 1967, Lee shopped around his passion project, a television show called The Warrior, which his wife Linda Lee Cadwell later said was stolen by Warner Brothers and repackaged as Kung Fu starring David Carradine. So instead, Bruce Lee left for Hong Kong, where he made a string of classic kung fu films starting with The Big Boss in 1971, before his sudden death just ahead of the release of Enter the Dragon, a Hong Kong-American production, in 1973. That's when he became an international legend.
"What's funny is he slapped Hollywood upside the face, because he made Hollywood come to him," said Rich. "Man, us brown people, us black people, we found a hero that superseded the pale-faced Hollywood media. Bruce was like, You know what? I'm Chinese, I'm brown, and I can whip your ass." Coming on the heels of the black radicalism of the '60s, Bruce Lee's importance as a cultural figure in the U.S. had deep political resonance: Both as a character and as an actor, he had a philosophy of self-reliance and discipline that resonated with the messages of the black power movement.
As Bruce Lee's films skyrocketed in popularity, hip-hop was in its nascent stages in New York. Those involved in the creation of the movement would go to cheap Times Square movie houses that often played kung fu films, and martial arts moves were eventually absorbed into the rising B-boying, a.k.a. break dancing, vocabulary. Enter the Dragon provided the blueprint for much of what would come, because it was arguably the first movie that brought martial arts and blaxploitation together — two genres that influenced hip-hop and would continue to intermingle throughout the '70s. "Kung fu provides a nonwhite, non-Western template for fighting superiority," Nelson George, who was a supervising producer on The Get Down, writes in Hip Hop America. "The flying, leaping, spinning angels and devils … are yellow men who awed us with their ability. And there was no one more awesome than Bruce Lee, the diminutive giant of the genre."
The Talauegas wanted the choreography for Shaolin Fantastic to show that kung fu wasn't just a nostalgic touchstone, but a key ingredient to making B-boy culture what it is. "B-boying is the epitome of pop-cultural dance, because they took, unbeknownst and knowingly, stuff from the Nicholas Brothers, from Bruce Lee, from kung fu theater, from '70s gang culture, all this stuff, they put it in a pot, mixed it up, and made some gumbo and everybody liked it," said Rich. "If it wasn't for Hong Kong cinema, hip-hop street-dancing culture would be a bit different," added Tone. For instance, the Talauegas recalled how kung fu filtered into how they played as kids. "All the Shaw Brother films, Bruce Lee films, was escapism for us in the hood," said Rich. "Subconsciously, after we watched that, we literally went outside and imitated and pantomimed what we saw from China."
The same sense of drive and purpose that courses through a kung fu movie propels The Get Down, too. The standard kung fu narrative has the protagonist seeking revenge or righting a wrong, but in order to do so, he must also practice his craft. "The good guy, you see his journey throughout the whole film: I'm gonna get better," said Rich. "Look at how B-boys do each other. In order to be amazing as a B-boy, there's copious amounts of practice." The idea of practice is hammered in repeatedly in The Get Down: Shaolin and Books (Justice Smith) could have had an aha moment with the purple crayon, for example, but the series takes pains to show us it's a technique to be mastered, not a wonder drug that grants you abilities.
The narrative arc for Shaolin Fantastic also mirrors that of many a classic kung fu flick: He's an outsider challenging the system and he has a mentor in the form of Grandmaster Flash. Moreover, he has a code. He might hustle; he might sell drugs, but he wouldn't sell out his honor or betray Grandmaster Flash. He's loyal to his tribe. "It's a parallel to how Bruce Lee conquered the world and made everybody look at and respect Asians from a different perspective," said Rich. "Shaolin's journey is a hero's journey: He wants to be the king. He's going to make it because he has nothing else."