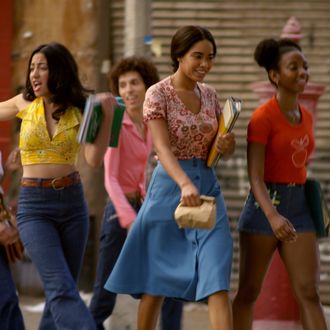 Netflix's The Get Down doesn't come out until Friday, but the behind-the-scenes story of its production — as reported by Variety last month — has already turned into a TV-show-worthy narrative: an unwieldy process that was beset by delays, cycled through multiple showrunners, and exceeded its original budget by about $7.5 million per episode (at $120 million, it's Netflix's most expensive series to date). Creator Baz Luhrmann told Variety that he at one point became "so overwhelmed with the process," he considered leaving the show.
One of the more interesting effects of The Get Down's production woes has been the decision to split season one into two parts  — the series' first six episodes will premiere Friday, August 12, with the second half to come at an undetermined date in 2017. In an upcoming interview with the Vulture TV Podcast, The Get Down co-creator (and Pultizer Prize–winning playwright) Stephen Adly Guirgis said the decision to split the season was made because Netflix and series producer Sony Pictures TV "wanted to get something on the air" after two-and-a-half years of production. "They're like, 'Let's get this show rolling.' That had everything to do with splitting the season in two."

While Guirgis emphasized that this was "fair and right" on their part, he expressed some frustration with how this affected the show creatively:
What's difficult about it was that we were writing in parts. We had sort of a three-act structure, which then became like a two-act structure with a P.S. at the end. But originally we wrote it to all be happening in a row. So where we end part one, it's not exactly like a cliffhanger. And that's a little disappointing to me. Because if we had known we were splitting it, we could have really made people suffer."
Guirgis added that the full episode count for the series has not yet been determined. "We're still fighting whether we're going to be able to do 13 episodes or 12," he said.
For more from Guirgis on the making of The Get Down, check out next Tuesday's episode of the Vulture TV Podcast on iTunes, or wherever you get your podcasts.