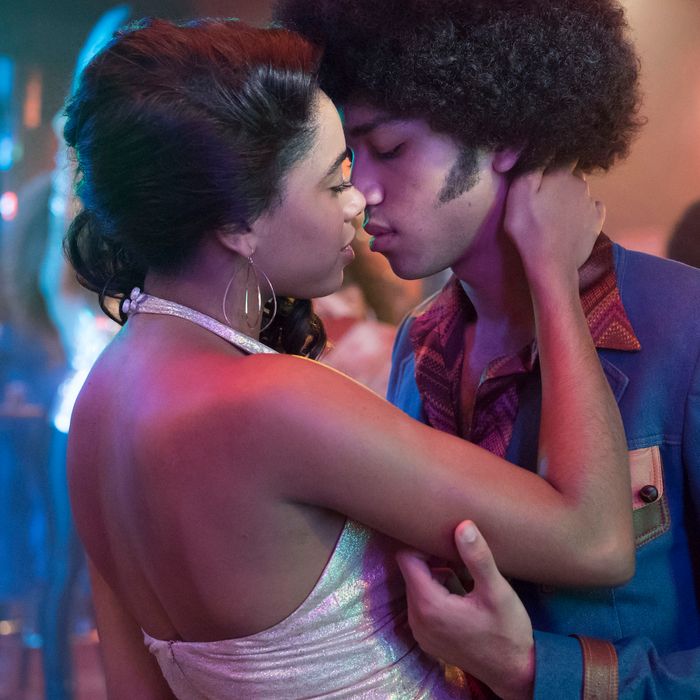 The Get Down
Where There is Ruin, There is Hope for a Treasure
Herizen Guardiola as Mylene, Justice Smith as Ezekiel.
Photo: Myles Aronowitz/Netflix
The Get Down is, at least in its first episode, the unmistakable product of its co-creator Baz Luhrmann. Consider this a blessing, a warning, or some odd combination of the two. Odd combinations are Luhrmann's specialty: His spastic directorial style smashes disparate tones together with reckless abandon, and his rapid-fire imagery can leave one exhilarated, nauseated, and/or aggravated. He can be extremely literal to the point of parody. These are his trademarks, and they have served him well.
Your mileage may vary on this new Netflix series, however, and I imagine some will be turned off by what's on display. And while I admit that Luhrmann's quirks have always tried my last nerve, there's something about The Get Down that intrigues me. Like with The People v. O.J. Simpson, those of us who lived through the period can hold onto juicy nuggets of anticipation. The Get Down takes place in New York City in 1977, so it must eventually cover the blackout, David Berkowitz, and the mayoral election of Ed Koch. Since the show handles its fictional arc in such a batshit manner, I can't wait to see how it tackles the true-life elements swirling around its characters.
This is a bizarre show, but the comfort with which it embraces its bizarreness is often hypnotic. I do not yet know what to make of it, but hopefully I'll have some idea before episode six, the midway point of this first season.
As director of the 92-minute debut, the longest episode of the bunch, Luhrmann sets the timbre of the show and its story lines in motion. We begin in 1996, where the adult version of our main character, Ezekiel Figuero, serves as our rapping Rod Serling. Played by Hamilton's Tony-winning Daveed Diggs, the older, wiser Ezekiel spits bars of story introduction. In subsequent episodes, his rhymes serve as a rhythmic recap of past events, a well-appreciated game of catch-up delivered in a style reminiscent of the rapper Nas. It's an appropriate homage, too: Nas serves as a series producer, along with Kurtis Blow, writer/music historian Nelson George, and Grandmaster Flash, who is represented onscreen by actor Mamoudou Athie. If nothing else, those producers ensure The Get Down will be knowledgeable about its subject and accurate about its mise-en-scène.
Ezekiel's 1996 rap immediately gives way to the show's 1977 flashback structure, where his younger self (played by Justice Smith) stands in the kitchen of his aunt's Boogie Down Bronx apartment writing rhymes on a pad. Like his opening rap number, Ezekiel's 1977 rhymes mention Mylene Cruz (Herizen Guardiola), a round-the-way girl whom he hopes to date. Mylene has a beautiful singing voice, which Ezekial occasionally accompanies on piano. "When you sing, it's like how red velvet feels," he writes, a way-too-obvious line denoting his sensitive soul. I rolled my eyes, thinking, "Good thing it's not blue velvet, or her voice would feel like David Lynch." But the sentimental fool in me won out — I immediately wanted to know how red velvet felt. Alas, all I have here at my crib is that velvet painting of two naked, Afro-clad people locked in a sensuous embrace. And it's not red. Que sera, sera.
Some names can pre-ordain your future career. If you're named Cleophus or Hezekiah or Ezekiel, you may as well just shuffle your ass behind a pulpit, because your destiny is preaching the Gospel. However, Ezekiel isn't the one who has an appointment with the Lord, it's the preacher's kid Mylene. But there's a big problem: Mama, she wants to sing! And not that religious music, either! Mylene wants to give the glory to disco, not God. She and Ezekiel secretly record a demo tape in her father's church. The tape, and the song on it, become an integral plot point.
As the show's potential lovers, Smith and Guardiola do the heavy emotional lifting, which includes a weepy telenovela-like confrontation that the duo embrace with fearless, sincere gusto. Ezekiel's classroom rendition of his prize-winning poem about his parents' demise is also haunting, not just for Smith's pitch-perfect recitation, but for the uncharacteristically unobtrusive way Luhrmann frames him and his teacher.
Despite their chemistry, Mylene rejects Ezekiel's romantic overtures because she has a plan for success. She'll win the nightly dance contest at Les Inferno, a neighborhood club. The prize is dinner with the club's resident DJ Malibu. Since Malibu spins the discs and knows the people who press them, Mylene will slip him the tape during dinner. Malibu will love it, of course, and deliver it to the folks at Marrakesh Records. Voilà! Mylene becomes the next Donna Summer. Getting into the club is the easiest part of this plan. She may be underage, but the club bouncer always looks the other way if the woman in question looks fly.
"That plan is STUPID!" Ezekiel yells. For starters, Les Inferno is a rival gang's club deep in Savage Warlords territory. The Warlords not only shake down the neighborhood businesses for protection money, they also force the store owners to sign contracts stating the terms and conditions of their extortion. In addition to trafficking in excessive legalese, which is a felony, the Warlords also wield automatic weapons, which they use against enemies like the folks who run Les Inferno.
Soon enough, Mylene's big plans hit a snag: She's just been grounded by her preacher father for singing secular music in his church. Pastor Cruz is played by Giancarlo Esposito, a.k.a. Buggin' Out, the pizzeria-picture protester in Do the Right Thing. Since Jesus is the only "brother on the wall" he's concerned about in The Get Down, Reverend Buggin' Out won't have his daughter singing anything other than the Lord's personal playlist.
Meanwhile, the bankrupt city of New York is still reeling from former President Gerald Ford's refusal to provide federal aid. "Ford to City: Drop Dead" reads the famous Daily News headline. Mayoral hopeful Ed Koch wants to capitalize on this crisis, but the current mayor may have an ally in Bronx businessman Francisco Cruz (Jimmy Smits, who is just fantastic). Koch may have called him a "poverty pimp" on live TV, but "Papa Fuerte" Cruz can deliver enough votes to reelect the mayor if he funds Cruz's dream real-estate project. ("It looks like the goddamn Taj Mahal!")
Ed Koch complains that the city is infested with crime and graffiti, the latter of which is partially provided by The Get Down's mythical hero, Shaolin Fantastic (a very game Shameik Moore). For the first 45 minutes, Shao is identified only by his pristine red Puma sneakers and the amazing murals he leaves on trains and walls. He leaps across rooftops with ease, outrunning Savage Warlords and cementing his status as a local legend with exploits real and imagined.
The show's central relationship is between Shao and Ezekiel. Before they can bond, they must scrap over a priceless remix LP of the Misty Holloway song Mylene sang on her demo. Ezekiel wants the LP to woo Mylene. The kung-fu-fighting Shao wants it because his mysterious sensei sent him on a quest to retrieve it. This leads to a ridiculous martial-arts showdown outside Les Inferno, which is only half as absurd as what's going inside.
The climactic club set piece is Baz Luhrmann at his most overbearing. The director crosscuts a bloody shoot-out on the club's roof with a jaw droppingly shameless dance contest. Both are scored to C.J. & Co's disco classic, "Devil's Gun," because shoot-out! When the carnage invades the dance floor and threatens our protagonists, the camera feels as if it's being swung around like a cat on a bolo. The result is so jarring that it threw me right out of the show. Even so, the shot of the blood-spattered disco ball is a vivid metaphor for the violent demise of disco, proving that, even at his worst, Luhrmann can still provide an effective visual among the ruins.
The episode ends with Shao explaining what "the Get Down" is, while his mysterious sensei — revealed to be Grandmaster Flash — demonstrates with the coveted Misty Holloway remix LP. Ezekiel performs his first rap, providing Shao with the "wordsmith" Flash demanded he discover. With Flash ready to teach Shao the wonders of DJ-ing, he decides to give up graffiti. As the guys chill on the roof of the abandoned building where Shao lives (the city hasn't turned off the water or the electricity), Mylene finds reassurance that she will become a star by enlisting the help of her powerful uncle, Papa Fuerte.
The stage is set for the fiery demise of disco, a music created and endorsed by brown people, and the phoenixlike rise from the ashes of the "CNN for brown people" called hip-hop. Take it away, Flash: "New York, New York, big city of dreams / But everything in New York ain't always what it seems."