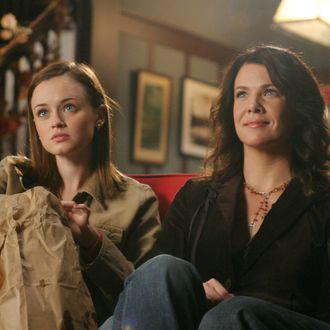 You may want to order out for turkey.
Photo: Scott Garfield/Getty Images
Grab a cuppa, the Gilmores are about to invade your living room. UP, a "family-focused" network you'll eventually find this fall, has announced a seven-season marathon of Gilmore Girls to air the week of Thanksgiving as a precursor to the debut of the show's Netflix revival. For those counting, that's 153 nonstop hours of Lorelai, Rory, Stars Hollow, and fast food (for you and them) starting November 18 at 6 p.m. ET and ending at November 25 at 3 a.m. ET (just as A Year in the Life goes live). So if you'd prefer to save the Netflix bingeing for your turkey-induced coma, UP is here for all your Gilmore Girls rewatching needs — with commercial breaks! Plan your weeklong Friendsgivings accordingly.