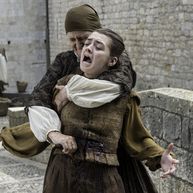 Photo: Macall B. Polay/Courtesy of HBO
Just as it is the Stark family's wont to warn Westeros that winter is coming, so too is it the responsibility of the fictional family's Emmy-nominated actors Maisie Williams and Kit Harington to warn the world about a bleak, dark, and cold future in the seventh season of Game of Thrones. Not only will viewers have wait an extra few months to get the awaited seven-episode season, but when it does arrive, it won't be the Lannister Family variety show Nikolaj Coster-Waldau once suggested. "I think it's going to get very bleak before if there is a happy ending, " Harington told The Hollywood Reporter. "If there's any sort of win or heroic moment for Jon and everyone else. I think it's going to get very dark before it gets better. I think what we might see this season is those White Walkers and that Army of the Dead really come into force." However, Harington spoke to THR before looking at the scripts, unlike Maisie Williams who gave this analysis on Twitter after reading the show's future:
Uh oh. Hide the dragons and direwolves and start sharpening those rubber swords, because it sounds like we're in for some nights that are dark and full of terrors.