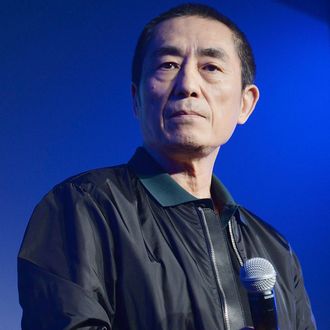 Zhang Yimou is dodging those flying daggers.
Photo: Chris Weeks/Getty Images
Director Zhang Yimou is leaping into the fray to defend his film The Great Wall, the most expensive Chinese production to date. The film caused considerable controversy with the release of its trailer, which featured, among other things, Matt Damon defending the Great Wall from dragons in ancient China. The most prominent critic was Fresh Off the Boat's Constance Wu, who argued that the film continued a long history of white men saving Asia. "We have to stop perpetuating the racist myth that [only a] white man can save the world," Wu wrote. "Our heroes don't look like Matt Damon. They look like Malala. Ghandi. Mandela. Your big sister when she stood up for you to those bullies that one time."
Zhang, well known for directing epics like House of Flying Daggers and classic films like Raise the Red Lantern, argues that The Great Wall is "the opposite of what is being suggested" and that the film is "deeply rooted in Chinese culture." Zhang released a full statement to Entertainment Weekly:
In many ways The Great Wall is the opposite of what is being suggested. For the first time, a film deeply rooted in Chinese culture, with one of the largest Chinese casts ever assembled, is being made at tent pole scale for a world audience. I believe that is a trend that should be embraced by our industry. Our film is not about the construction of the Great Wall. Matt Damon is not playing a role that was originally conceived for a Chinese actor. The arrival of his character in our story is an important plot point. There are five major heroes in our story and he is one of them — the other four are all Chinese. The collective struggle and sacrifice of these heroes are the emotional heart of our film. As the director of over 20 Chinese language films and the Beijing Olympics, I have not and will not cast a film in a way that was untrue to my artistic vision. I hope when everyone sees the film and is armed with the facts they will agree.
Zhang is deploying the patented "Wait and see!" argument, which isn't entirely unfair. However, he also doesn't quite address the substance of Wu's argument, which is that the film is centered on a white hero protecting the Great Wall. While it's unclear what the substance of the narrative is, what is clear is that Matt Damon gets top billing in the film. In fact, the credited actors are Matt Damon, Jing Tian, Pedro Pascal, Willem Dafoe, and Andy Lau.