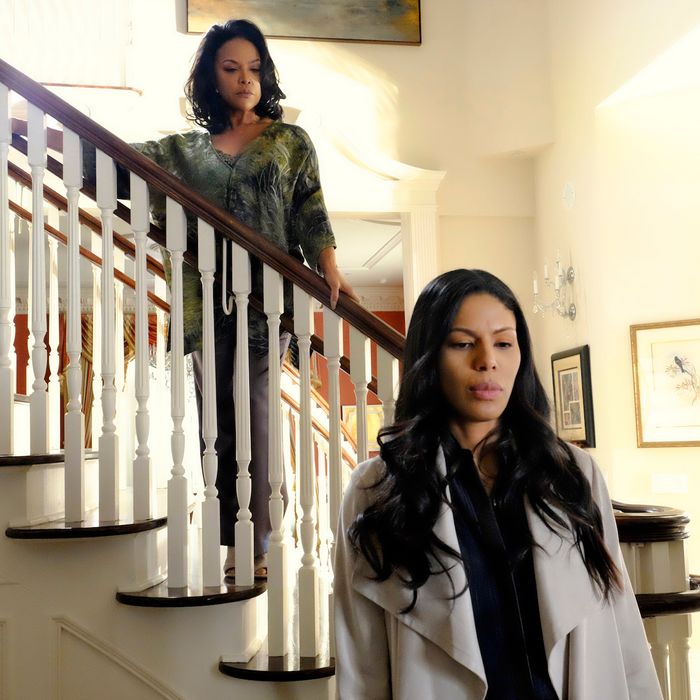 Lynn Whitfield as Lady Mae, Merle Dandridge as Grace.
Photo: Guy D'Alema/Oprah WInfrey Network
With the season finale closing in, "Men Like Trees Walking" begins pushing each story line into position. Though crucial for any serial narrative, episodes like this one often stumble into a dull sort of plot development. Not so with Greenleaf.
Why? Because Keith David and Lynn Whitfield show us why Bishop and Lady Mae are perfect for each other. They both know how to smile pleasantly while cutting into an adversary's soul, just like any true Southerner knows that "bless your heart" is rarely a blessing. It's no surprise they are such a good match: The Greenleaf children — Grace, Jacob, and Charity — continue making poor decisions, leaving Bishop and Lady Mae to set things right.
A month after Bishop presumably shot Uncle Mac, Calvary is bleeding members. The exodus (pun intended) is seriously affecting church finances. People are even canceling their tickets to Lady Mae's Women's Day celebration, which has only half of its usual projected attendance. Lady Mae pays the remaining $4,500 from her personal funds to secure the usual meeting place. That's the price of her stubborn pride: She refuses to admit defeat and hold the event in the church itself, since it's a smaller venue. On top of all of this, Alexa, Jacob's former mistress, is back and suing for wrongful termination.
In the meeting with Alexa and her lawyer, Bishop tries to pull on their former relationship to get a better understanding of how they reached this strained point. Alexa refuses to meet his gaze and her lawyer eventually hints that a settlement would be nice — especially if it's large enough to finance the purchase of a Jaguar. Bishop smiles throughout the meeting, but it's a sour look; his tone is too sweet to be kind. Jacob arrives just as the meeting ends, and once again, Alexa avoids making eye contact. Bishop smiles through his explanation yet again, then shoots down his son's plea to be reinstated. Jacob is stunned.
Bishop asks Jacob to think about what he wanted to be as a child. He has no true calling for the church. He merely stepped up when Grace left. This would be a reasonable point … if Bishop allowed Grace to resume her responsibilities as a pastor. He isn't, so Jacob should realize that his father isn't choosing Grace over him. Bishop suggests that Grace has opened a window of opportunity for Jacob to find what he really wants to do with his life. Sure, it didn't open through the best of circumstances, but it's an opportunity nonetheless. Jacob seemingly goes along with Bishop's advice, but at home, he reveals to Kerissa he's going to go to Triumph, Calvary's rival church, and see if there's a position for him there. Kerissa knows it's a bad idea, but she's in supportive-wife mode and stifles any further protests.
Although Jacob and Kerissa's marriage seems to be healing, she has clearly reached a breaking point. Lady Mae continues to belittle her ideas. And when Jacob later meets Pastor Skanks of Triumph, the slick pastor reveals that Alexa is a member of his church. Will Kerissa be able to tolerate seeing her husband's former mistress again? The Greenleaf family underestimates her, even though she keeps tabs on how many times she's been slighted. It wouldn't be surprising if the season ends with Kerissa managing to inflict serious damage against the Greenleafs.
Meanwhile, Ray serves Grace with papers to fight for custody of Sophia. Even though Sophia doesn't want to live with Ray, she resents that Grace put her in the position of having to testify that she'd rather live with her mother. Sophia doesn't want to hurt her father, but she's grown to love Memphis and being a part of the church. She even speaks up in Bible study, despite a classmate who makes a snide comment about Uncle Mac reaching under her skirt. Sophia gives her interpretation of Mark 8:24, which tells the story of Jesus healing a blind man. When the blind man first tries to use his eyes, he sees people walking like trees, and Sophia interprets that passage to mean that everyone has roots. She certainly feels rooted in Calvary. It's her home, and she doesn't want to leave it.
It's worth noting that very few shows depict people discovering faith in a positive light. On The Real O'Neals, the family's Catholic faith is played for laughs; it's part of the reason why they try to hide from their true identities. On The Americans, Paige's conversion becomes a threat to Philip and Elizabeth's entire mission. In the first two seasons of Homeland, Brody's Muslim faith is treated as an implicit betrayal, if not an outright path to terrorism. The Leftovers highlights the extremes of cults. On Greenleaf, Sophia uses her faith to anchor herself without harming others. She tells Grace that Memphis (and by extension, the church) feels like home. She wonders how Grace could have ever walked away from home. Greenleaf often shows how people use Christianity to hide wrongdoing, so it's most striking to see Sophia find peace in religion. It's borderline radical, even.
We see Kevin still sleeping on the couch, and Charity remains distant, barely putting on a civil façade at church. (She even has choir members help her put together the twins' nursery.) Kevin finally tells Adrian what's going on, and the two go for a walk together. Adrian is understanding and supportive, resting his hand on Kevin's shoulder in a charged moment. Kevin says he doesn't want to be like his father and leave his family, and he doesn't want to cheat. "Not yet," he says. He's on the verge of admitting his attraction to men, but he walks away before saying more. Greenleaf is setting things up to make it seem like Charity's distance will push Kevin to cheat. That feels cheap, especially as a means of character development. If Kevin has an affair, it won't be Charity's fault. If he's actually honest with himself and his wife, perhaps it won't even get to that point.
Speaking of marital discord, Lady Mae and Bishop are not getting along. He won't tell her what Mac has over him, and Lady Mae refuses to let it rest. Bishop tries to smooth things over by sending her a lovely bouquet for their 44th wedding anniversary, but she throws it away, unwilling to forgive him for his silence. Lady Mae knows how to hold a grudge.
Case in point: After she learns that Melisse applied for a Women's Day scholarship to go back to nursing school, Lady Mae sees the perfect opportunity to remove her from Calvary. Remember, Melisse confirmed to the local newspaper that Bishop had shot Uncle Mac. Lady Mae waited a month to confront her about it. With her plan now in place, Melisse will get a summer's worth of wages, plus tuition for the first year of her nursing program, but she'll have to wait and see if more will be forthcoming. Lady Mae's smile is a remarkable thing, tight and clipped at the corners, and her message is clear: If Melisse says anything else about the Greenleafs' business, they'll cut off all financial assistance. This is the second time Lady Mae has thrown money at a problem, which seems risky given the church's precarious finances. How large can her nest egg really be?
Again and again, Bishop and Lady Mae force themselves to smile through the difficult challenges overwhelming their family, but those smiles comfort no one. As Bishop tells Grace, she's not actually sorry to have caused so much trouble; she's just sad because their bond is frayed beyond repair. Uncle Mac calls Bishop from jail and asks if hell really does exist. It seems strange that he would seek reassurance from the man who's partly responsible for putting him in jail, but Bishop offers him what comfort he can, telling him that hell is realizing what your life might have been had you done the right thing. In that moment, it's clear that Bishop is called to his ministry in a way that Jacob is not. Bishop urges Uncle Mac to confess and he agrees, but whose confession will he make? We've got two episodes left to find out.