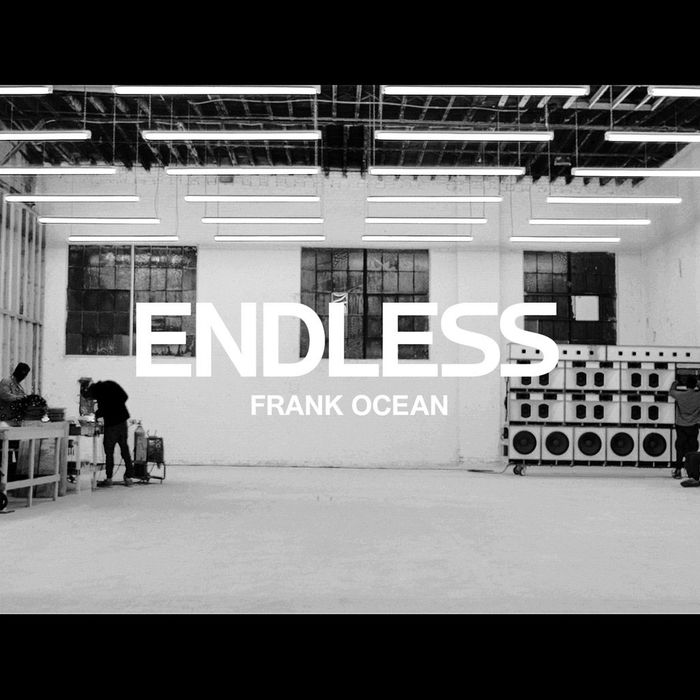 Dry your eyes, Frank Ocean has been found and so has his new music! After two weeks of cryptic, intermittently streamed carpentry, Ocean seemingly completed work on his stairs Thursday night and promptly (by his watch) dropped a new 45-minute visual album, Endless, on iTunes and Apple Music. According to Apple, it's the first of more to come from Ocean this weekend — meaning, this is or isn't the album you've waited four years to devour. Still, it's something! But what? Below, we try to answer all your burning questions as best we can.
What, exactly, am I watching?

As has previously been suggested, Endless is a 45-minute "video art project" directed by Francisco Soriano (though he's credited as director of photography, with Ocean as director), who previously directed Ocean's video for "Lost." According to artist Tom Sachs — the man responsible for that massive boom box sitting in the back right corner of the room — it was filmed "in the past year," and Sachs "advised Ocean on some carpentry issues" for the project. The film itself features all the same footage from the web stream of Ocean building a staircase (a Twitter rumor proved correct) from scratch in a large warehouse, only it depicts multiple clones of Ocean transposed into the same scenes. Internet sleuths thought they had discovered that warehouse's location to be in Brooklyn, though a listing for it (which does look very similar) now claims Ocean was never there.
So, is it the album?
All we can say for now is it's one album. According to Apple, it's a "visual album," words previously used to describe Beyoncé's last two releases. As to whether this is Boys Don't Cry, the album Ocean has ostensibly been teasing for over a year — and which was most recently meant to be released two weeks ago — the answer appears to be no. Rolling Stone reports that Endless is a "different project from his proper new album" and that Boys Don't Cry will arrive this weekend. (Bear in mind that when Ocean originally teased Boys Don't Cry for the first time last summer, he did say "I got two versions. I got twooo versions.") RS also says that Boys Don't Cry, the name, has been replaced. "The singer has scrapped that title in favor of an alternate title," they report. Apple's only instructions so far: "Keep an eye out this weekend for more from Frank."
The original stream played various looped instrumentals; on August 19, during the likely final stream, those same beats were played with lyrics and vocals from Ocean, among others. Endless includes 18 songs altogether, including a new version of his previously heard cover of Aaliyah's "At Your Best (You Are Love)," originally by the Isley Brothers.
And who made this thing?
The list of credited collaborators (identified at the film's end) run the gamut from the familiar elite to the totally obscure. Its producers are Frank Ocean, nostalgia, ULTRA producer Troy Noka, So-Cal's Michael Uzowuru, and Joe Thornalley (a.k.a. VEGYN, who also apparently did the music for Ocean's Calvin Klein ad). Kanye West's right-hand men Mike Dean and Noah Goldstein mastered and mixed the album, respectively. Grammy-nominated singer Jazmine Sullivan is the most-featured artist, with vocal credits on four songs. For Ocean's reworked version of the Aaliyah cover, he had Radiohead's Jonny Greenwood on string orchestration, the London Contemporary Orchestra (conducted by Robert Ames), Om'mas Keith (who won a Grammy for Channel Orange) on piano, and James Blake on synthesizers. (Ocean also wrote songs for Blake's latest album.) Drake and Kanye West collaborator Sampha has vocals on "Alabama," and Björk producer Arca is credited with "programming" on "Mine." Underground songwriter Alex G played guitars on "Wither," "Slide on Me," "Rushes," and "Higgs." Randomly, Ocean's stylist Rita Zebdi has a vocal credit on "Commes Des Garcons."
German visual artist Wolfgang Tillmans wrote the intro, "Device Control,"and, as confirmed on Instagram, that's also him on the closing tech monologue, "Higgs,"  all about how you can "stream your life." (How meta of you, Frank.) Tillmans says Ocean asked to sample the unreleased "Device Control" three weeks ago and then, unbeknownst to Tillmans, released the full version on Endless — though he isn't bothered by it. French composer Christophe Chassol played piano on "U-N-I-T-Y" (which is not a Queen Latifah cover, sadly). Noka produced "In Here Somewhere" and "Death Wish (ASR)." French DJ SebAstian "programmed" three songs. Ben Reed played bass on multiples songs; Frank Ocean's keyboardist Buddy Ross also contributed on multiple songs. Ocean himself plays piano on multiple songs, plus guitar on "Rushes To."
Most will probably recognize the sample on "In Here Somewhere" as Daft Punk's "Contact," but it's actually another use of the Sherbs' "We Ride Tonight." "Rushes" interpolates Lauryn Hill's "Just Like Water." "Wither" samples Sullivan's "In Love With Another Man."
Where in the world has Frank been?
All over the place, apparently! The album was recorded at Abbey Road in London; Capitol Studios in L.A.; Conway Studios in L.A.; Wolfgang Tillman's home (wherever that is); Studio C in Brooklyn, and the famously elusive recording studio at the Mercer Hotel in Manhattan (where Kanye and Jay Z secretly worked on some of Watch the Throne.)
Hmm, anything else I should know?
Well, the whole film ends, aptly, with various typefaces spelling Endless. But its true end — and probably the point of all this — comes with the words "Blonde / Boys Don't Cry." (Blonde being the company that Ocean owns and that runs his site.) Because both Frank Watch and ungratifying hype are endless.
The tracklist for Endless is as follows:
01 "Device Control" (written by Wolfgang Tillmans)
02 "At Your Best (You Are Love)" (The Isley Brothers/Aaliyah Cover) (ft. Jonny Greenwood, James Blake, and the London Contemporary Orchestra)
03 "Alabama" (ft. Sampha and Jazmine Sullivan)
04 "Mine" (prod. by Arca)
05 "U-N-I-T-Y" (ft. Christophe Chissel)
06 Ambience 001: "In a Certain Way"
07 "Commes Des Garcons"
08 Ambience 002: "Honeybaby"
09 "Wither" (ft. Jazmine Sullivan and Alex G)
10 "Hublots" (ft. Jazmine Sullivan)
11 "In Here Somewhere"
12 "Slide on Me"
13 "Sideways"
14 "Florida"
15 "Deathwish (ASR)"
16 "Rushes" (ft. Jazmine Sullivan and Alex G)
17 "Rushes To"
18 "Higgs"