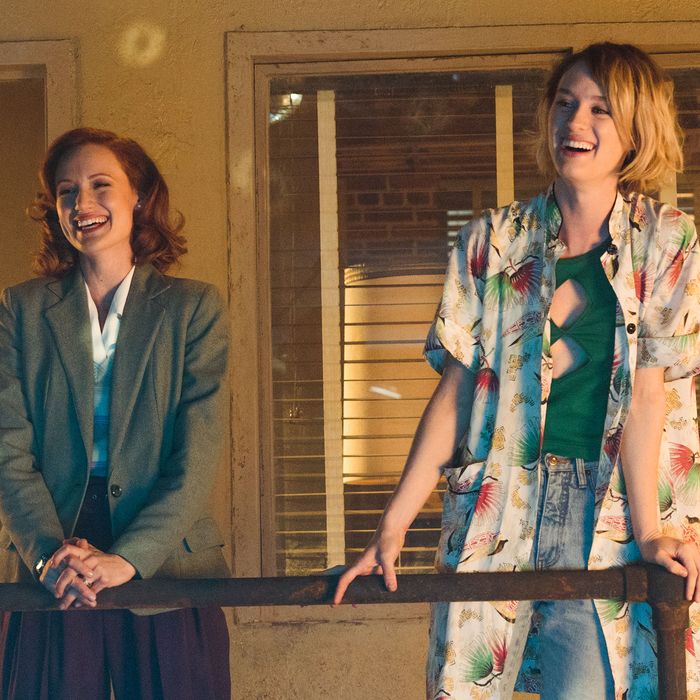 L-R: Mackenzie Davis as Cameron Howe, Kerry Bishé as Donna Clark.
Photo: Tina Rowden/AMC
Halt and Catch Fire literally goes somewhere new this season, moving its personal-computer pioneers from the Texas Silicon Prairie to Silicon Valley, California. Other than that though, Halt and Catch Fire feels like pretty much the same Halt and Catch Fire it was in season two. Cameron (Mackenzie Davis) and Donna (Kerry Bishé) are still running the gaming/online community Mutiny and grappling with the challenges of leading while female. Gordon (Scoot McNairy), now also working at Mutiny, is still trying to get his marriage back on track while grappling with health issues that seem to be turning more dire. Joe MacMillan (Lee Pace), once directly allied with Cameron, Donna, and Gordon, is working on his own business and trying to prove he's a visionary, all while co-opting the brain power of others.
In other words, this season of Halt and Catch Fire, which returns to AMC on Tuesday, August 23, with a pair of back-to-back episodes (the network also aired the first episode by surprise last night), covers familiar thematic ground while remaining a very good period piece that traces the rise of digital technology and simultaneously uses it as a metaphor to explore its characters' frailties. It's also a show that hits you in the brain cells more often than the feels, which means that, like many current dramas, it's more likely to inspire admiration than passion. I genuinely enjoy Halt and Catch Fire and have told multiple people that they should watch it. But I've never told anyone they have to watch. With TV apparently still heading toward its peak (seriously we're not there yet?) and, as Matt Zoller Seitz pointed out, the serialized drama stuck in a bit of a slump, have-to's are getting harder to come by.
Halt and Catch Fire absolutely earns its should-watch status, though, for several reasons. One is its cast: The principals, as always, are uniformly solid, as are this season's newcomers, Annabeth Gish as savvy Mutiny investor Diane Gould and Manish Dayal as Ryan, a promising developer. Like The Americans, another basic cable series set in the '80s, Halt and Catch Fire practices respectable levels of restraint, both in its approach to storytelling and the way it effectively evokes its era without resorting to heavy-handed use of Miami Vice pastels or excessive references to Max Headroom. (The music choices in season three, where it's now the spring of 1986, are terrific, with David Bowie's "Absolute Beginners" acting as a particularly spot-on standout.) But the greatest pleasures of Halt and Catch Fire can be found in the dramatic irony inherent to its narrative. As the characters slowly continue to discover the possibilities of a still-young internet, we are able to watch with 21st-century 20/20 hindsight, knowing they're a few breaths away from transforming society — or, if you're an analog purist, bringing about its downfall — even though they don't realize it. That sets the table for quality parallel universe drama and some real wink-wink moments, including one in this season's first episode when Cameron says: "We're never going to stop people from talking on the phone. And we don't want to. That's a genuine connection." Oh, Cameron. I'm afraid to show you what 2016 looks like.
After watching the first six episodes of what will be a ten-episode season, it's obvious that what was true last year on Halt and Catch Fire continues to be true: Cam and Donna are the heart of the show, while Gordon and Bos (Toby Huss), the Texas-drawling traditionalist who sits on Mutiny's leadership team, play compelling secondary roles. As for Joe, at least initially he exists on his own, less interesting island.
Last season, Cameron and Donna expanded Mutiny from pure gaming platform into a chat-room hub, creating a digital gathering spot that seems to plant the seeds for what could become AOL, not to mention, years later, Reddit and Facebook. In the new episodes, Donna and Cam realize their users are frequently finding like minds with whom they can connect offline to trade collectibles and other items, which suggests — lightbulb! — perhaps people want to actually trade goods and services on the internet. Suddenly they're taking the business in that Craigslist-y, eBay-ish direction, which means they have to find backers and start collaborating with fellow entrepreneurs (read: dudes) whose creative styles don't match their own. Just as the chat-room plot underlined the communication breakdowns that affected these characters in season two, this new focus on transactional technology highlights the increasing importance of money and status in the intense Silicon Valley environment.
Status has never been more important to Joe, who, with a failed marriage behind him, seems even more hell-bent on becoming a Steve Jobs–like figure. The problem is that he can't quite settle on a game-changing idea, so he poaches Ryan from Mutiny in the hope that he'll help him come up with something. Ryan is both in awe of Joe and unsure of what to make of him, which summarizes what makes this character so problematic. Joe is the classic "difficult TV man": As played by the charismatic Pace, he's magnetic but mysterious, unethical but not without capacity for compassion and kindness, and, if we're being totally honest, kind of boring. That's not an indictment of Pace's portrayal so much as a problem with the way that showrunners Christopher Cantwell and Christopher C. Rogers, as well as the writers, have designed him. The whole point of Joe MacMillan is that you can't get a read on him or predict what he's going to do, but because of that, it's also hard to fully connect to the character.
Gordon, Cam, and Donna, while complicated people, are much more straightforwardly empathetic, especially the latter two. As women in an industry dominated by men, they encounter sexism constantly yet continue to press on in ways that would make Peggy Olsen proud. There's a wonderful moment in the second episode where, after convincing Diane to help Mutiny acquire a direct competitor, Donna celebrates in the ladies' room by kicking one of the bathroom stalls, a celebratory gesture that accidentally exposes a woman on the toilet and prompts Donna to profusely apologize. This might be the best visual metaphor for what it means to be a successful female that I've seen on TV all year; at the least, it's tied with Sarah Paulson walking  into a courtroom with that famously bad Marcia Clark haircut on The People v. O.J. Simpson.
The more Halt and Catch Fire continues to lean into the emergence of Cam and Donna as two of the major forces behind the show's alternate-reality internet revolution, the more interested I am in seeing where it goes. Also, the more it does that, the more this series about the Silicon Valley before HBO's Silicon Valley feels like must-watch TV, as opposed to just should-watch TV.