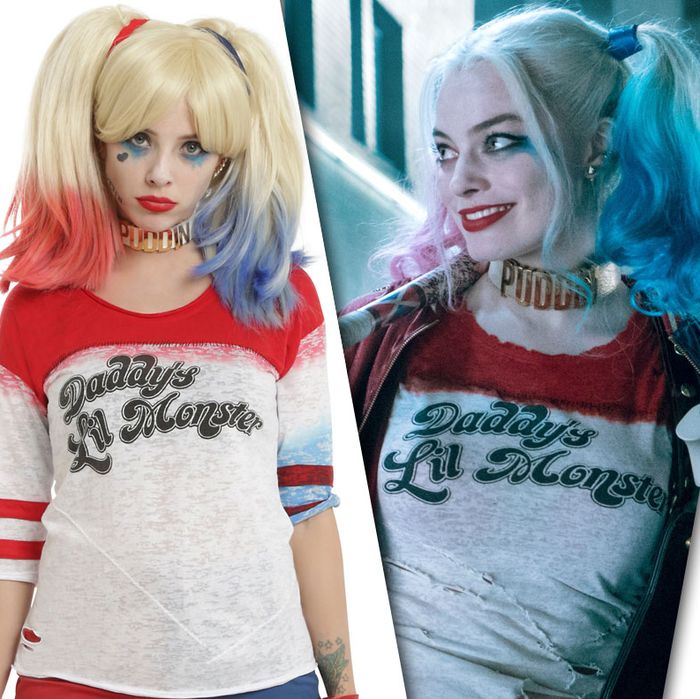 Harley galore.
Photo: Hot Topic, Warner Brothers, DC Entertainment
In 2011, Supernatural writer/producer Adam Glass had an odd idea. DC Comics had hired him to pen a revamp of Suicide Squad, a series that had been intermittently published since 1987 and was known for its cast of villains. In assembling his lineup, he wanted to include a character who'd been kicking around in the Batman mythos since she first appeared on Batman: The Animated Series in 1992: the Joker's sometimes-paramour Harley Quinn. Though she'd never been a member of the Squad before, Glass thought she'd add a manic flair and "much-needed comic relief."
The powers that be were skeptical.
"I gave them the script and they said, 'We love everything except Harley Quinn,'" Glass recalls. "They were like, 'She's a Batman villain! Why should she be on the Suicide Squad?'" Nevertheless, Glass was allowed to move forward with his concept, and Harley made her team debut in September 2011's Suicide Squad Vol. 4, No. 1. As is common with comics, the publisher released "variant" covers — alternate versions with different images on the front. A few months into the series, DC's co-publishers, Jim Lee and Dan DiDio, noticed something unexpected.
"Harley covers sold better than any of the other characters," DiDio recalls. "And the best-selling [paperback collection of issues] was the one that captured her origin story. So when we saw that she had some real interest — and the more we put her in the book, the better the book did — it seemed to generate some sensibility for us, saying, There's more there."
DiDio hasn't been the only person to make that observation. Departments throughout DC's parent company, Warner Bros., have noted Harley's popularity and realized they have a hit property at their disposal. The character just made her big-screen debut via Margot Robbie in last weekend's underwhelming Suicide Squad, bringing Harley an unprecedented level of visibility. A spinoff movie is already being discussed, but regardless of whether that's realized, consumers should expect to see a whole lot more of the character in the coming years: Warner Bros. — and the retailers who sell their products — are investing heavily in the Clown Princess, and they're ready to laugh all the way to the bank.
"I refer to her as the fourth pillar in our publishing line, behind Superman, Batman, and Wonder Woman," says Lee. Harley currently stars in four series — three eponymous ones and Suicide Squad. Only Batman and Superman have comparable numbers of monthly appearances, and Wonder Woman doesn't come close, making Harley DC Comics' most prominent (and bankable) female character.
Lee and DiDio say that's not going to change anytime soon, and with good reason: Harley tears up the comics charts month after month. For example, in April DC released four different comics issues starring Harley: Harley Quinn No. 27, Harley Quinn and Her Gang of Harleys No. 1, Harley's Little Black Book No. 3, and Harley Quinn & Suicide Squad April Fools' Special No. 1. The latter had more retailer orders than any DC comic other than Batman, and all four of them beat the orders for Superman and Wonder Woman. The April Fool's special had an estimated 75,354 orders — for comparison, Marvel Comics' top Spider-Man title had 1,711 fewer than that.
Yet while the comics division of Warner Bros. may only have gotten serious about Harley in 2011, other parts of the company have known about her power for a while. "We've been huge fans of Harley Quinn from her inception," says Kevin Kiniry, vice-president of DC Collectibles, which is responsible for items like action figures and statues. He says she's "always a top seller" and that she "can go toe to toe with Batman and the Joker as one of the most fan-requested and sought-after characters." As a result, there are more collectibles coming out in the next few months: among them, a line based on artist Amanda Conner's comics drawings of her and a statue series called Harley Quinn Red White & Black.
But the best indicator of Harley's value to WB is found in their consumer products division, which handles the licensing of the character for a dizzying array of merchandise. She appears on nearly 70 items at Hot Topic; shows up in toys from Lego, Funko, and Mattel; has hats from New Era; and even graces two Six Flags rides: Georgia's Harley Quinn Spinsanity and New Jersey's Harley Quinn Crazy Train. Warner Bros. consumer products president Pam Lifford calls Harley "a very important part of our DC franchise brand strategy" and says they became acutely aware of her importance after a much-cited 2015 Google analysis that declared her the most popular Halloween costume in America. Indeed, Lifford says Harley costumes are the consumer products division's "biggest hit."
The major question mark for WB's Harley strategy, then, lies in film. She's already a key part of the company's animated output, starring in the kid-oriented web series DC Super Hero Girls and next summer's animated movie Batman and Harley Quinn, but the future is less clear for Robbie's live-action incarnation — particularly following the response to Suicide Squad, which had a massive (but misleading) opening weekend yet was defined by its abysmal reviews. Even so, it would seem that a stand-alone movie featuring one of DC Comics' most marketable characters (and starring one of Hollywood's buzziest actresses) remains a calculated risk worth taking.
When Vulture caught up with Robbie at the Suicide Squad premiere, we asked about the rumors. "There are conversations," she said. "I really wanna continue it. I think there's so much more you can do with the character."
No matter the spinoff movie's fate, that last sentence seems to sum up WB's general philosophy about their hit piece of intellectual property — and if something can be done, it's a safe bet they're going to do it. As David Webster, vice-president of purchasing for New York-based retailer Midtown Comics, reiterates, demand for Harley comics and products is tremendous. "A given vendor will call me up and say, 'We're doing more Harley Quinn stuff now — could you move more of that product?'" he explains. "And I'll always say, 'Yeah.'"
"They'll say, 'You don't see an end?' And I say, 'Not right now.'"