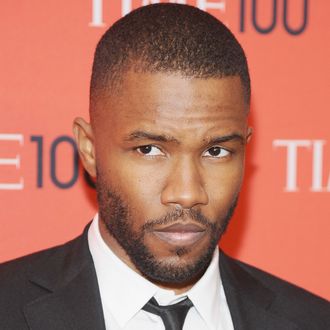 But will they be on the album?
Photo: Gary Gershoff/Getty Images
Watching Frank Ocean saw, weld, drill, and hammer his way back into our hearts has been the ultimate exercise in patience. And if you've stuck through at least some of it in the hope of hearing his new album, well, it's possible you already have. We're on day four of this "Endless" livestream and have yet to hear Ocean's actual falsetto, but it hasn't been pure static. Throughout the footage of his carpentry, various instrumentals — ranging from acoustic guitar, orchestral compositions, synth loops, and more — have played in the background, seemingly from that giant boom box in the corner of the room. Thanks to some angel on Reddit, you can relive all the music on SoundCloud with only minimal woodworking interruption. By that person's count, there have been at least 21 tracks played on the stream, some as short as 30 seconds. Read into that however much you'd like, but might we recommend track five for whenever you're ready to rock yourself to sleep.