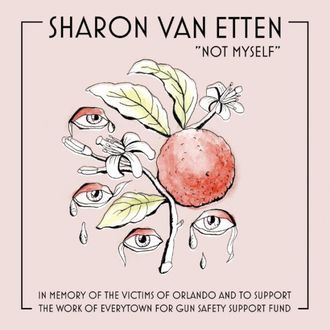 Moved to action by the Orlando nightclub shooting earlier this summer, musician Sharon Van Etten joins other musical tributes by writing and recording the warm, somber song "Not Myself" in memory of the 49 LGBTQ clubgoers who died and the 53 who were wounded at Pulse nightclub on June 12. As Van Etten explains in the single's release:
"I was home with my parents in New Jersey when I heard of the shooting at the nightclub in Florida. Hate, violence, and intolerance has always upset me, but I haven't been this overwhelmed with sadness and disbelief in a long time. The victims were only trying to be themselves and be comfortable and safe in their surroundings. That safety was violated out of fear and with a gun.

I originally wanted to raise money for the victims and their families, but I knew the issue was bigger than this. I wrote 'Not Myself' for the victims of this horrific event, but I chose to support the research and awareness work of Everytown for Gun Safety Support Fund: a movement of Americans working together to end gun violence and build safer communities. 
 
In the memory of those trying to be safe and be themselves, I hope we can all come together to help prevent another massacre like this and end gun violence."
Proceeds from the song, which is available for purchase here, will support Everytown's research on gun violence and ongoing gun education.