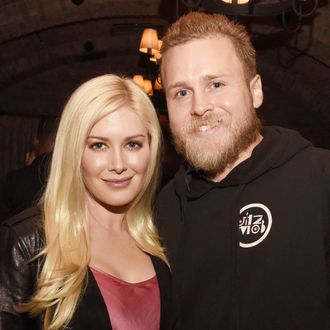 We're not over The Hills.
Photo: Vivien Killilea/Getty Images
Last night, MTV aired a special commemorating the 10th anniversary of The Hills. Lauren Conrad returned to look back at the past, but it seems that a couple of others would like to speak the words on her lips. Heidi Montag and Spencer Pratt, the 2000s blonde Team Rocket, weren't invited to the event. Let's just say they have some feelings about that.
First, Pratt fired a few broadsides on Twitter:
Think of all the crystals we didn't get to see.
Then, Montag collected her thoughts in a liveblog for Broadly, though she got to the point quickly:
9:01 p.m.
Lauren is narrating all our lives again. Surprise! It's all about Lauren. Blogs have advertised the show as a "reunion," but it's really an LC special.
She was as excited to see Kim as everyone else:
9:24 p.m.
KIM KARDASHIAN!!! I love her! She was always so nice and sweet. She attended our housewarming party and loved my jellyfish.
And very exhausted by the idea that she was a villain.
9:27 p.m.
The crew was not divided. They never came to my defense. They never considered Spencer or my feelings. They always took Lauren's side.
Love is real, people.
9:38 p.m.
I am so happy for Lauren and her marriage. Everyone deserves love like the relationship I have with Spencer. Love is so important, and she deserves happiness. I wish Lauren the best.
"Everyone deserves love like the relationship I have with Spencer" — LC, can you feel the shade on your skin?
Finally, maybe Speidi will take a note from Kim Kardashian and release the receipts.