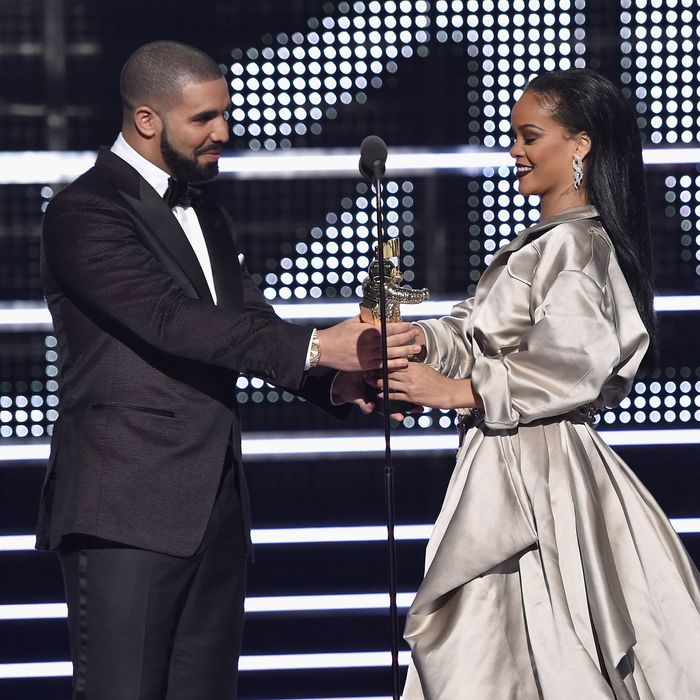 NEW YORK, NY - AUGUST 28: Drake presents the Video Vanguard award to Rihanna onstage during the 2016 MTV Music Video Awards at Madison Square Gareden on August 28, 2016 in New York City. (Photo by John Shearer/Getty Images for MTV.com)
Photo: John Shearer/Getty Images for MTV.com
There's a good chance the production run sheet for the 2016 VMAs simply listed "Rihanna moment," "Beyoncé moment," and "Other." (Plus "Kanye's wild-card block .") Beyoncé did as she does with a nearly 17-minute Lemonade medley that would have stolen the show outright had Rihanna, the night's Video Vanguard honoree, not wrapped the proceedings with her humbling sidestep of a fawning Drake. Filling the time until we reached that point was an assortment of perfectly entertaining performances, a pleasant Key & Peele running bit, giggly Olympians, and an even more giggly Chance the Rapper. Relive the best, worst, and what?-est with us below.
HIGH: Rihanna curving Drake.
Drake: In love since he was 22.
Rihanna: Employing savagery since the womb.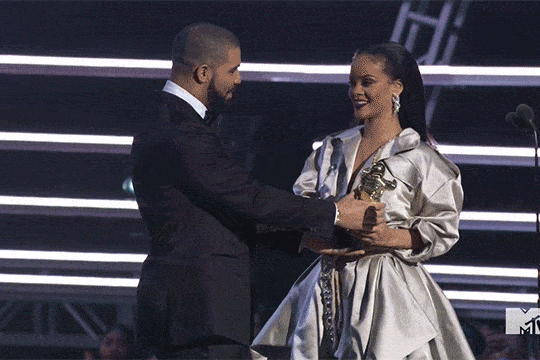 Didn't they tell you, Aubrey?
HIGH: Key & Peele serving as de facto MCs.
Although the 2016 VMA ceremony wasn't advertised as having a host, the task basically fell to Key & Peele, playing a pair of jargon-slinging social-media obsessives. Not every joke landed, but the two kept their energy high, and there was arguably no better way to punctuate the night's biggest moments (Beyoncé's performance, the premiere of Kanye's "Fade" video) than by having the motor-mouthed duo rendered speechless.
LOW: Kanye's speech.
Kanye, we know you love Kanye, and we love hearing about how Kanye loves Kanye, but Kanye's love of Kanye talking Kanye is getting in the way of us getting … Kanye. In his allotted four minutes, Kanye dropped a variety of names — Taylor, Amber Rose, Howard Hughes? — but could've done with a thesis, and maybe a few topic sentences, not to get all Speech 101.
HIGH: Kanye's "Fade" video and its star, Teyana Taylor.
… But then Kanye showed us what he does when not talking about himself, and all was forgiven. To some, Teyana Taylor is a My Super Sweet 16 alumna; to everyone, she's your new motivation to hit the gym. As the main attraction of Kanye's mesmerizing new video, she put on a feat of athleticism, dance, and post-pregnancy body goals that should serve both as an audition tape for a Flashdance reboot, and as a reason for one to exist.
WHAT? Rita Ora and Ansel Elgort (Elgora?) introducing an equally WHAT? performance by Nick Jonas.
A segment that had us Googling who, what, where, and especially why.
HIGH: Beyoncé.
Missed The Formation Tour? No matter. MTV handed its stage over to Beyoncé to bring you the highlights — a full medley of Lemonade, including bat-smashing, actual dust, and a so-subtle-you-probably-missed-it tribute to black lives gunned down. Kanye got four minutes; Bey got the whole night to slay.
LOW: The Chainsmokers.
Your new chart-topping overlords aren't a regular frat, they're the cool frat.
HIGH: Desiigner's reaction to Future.
A round of applause for the VMAs' unsung heroes: the camerapeople, bringing you all the moments the night's famous attendees never intended to be televised, forever immortalized in memes. Allow this cutaway to Desiigner while his inspiration, Future, was performing to be your new Chrissy Teigen cringe-face.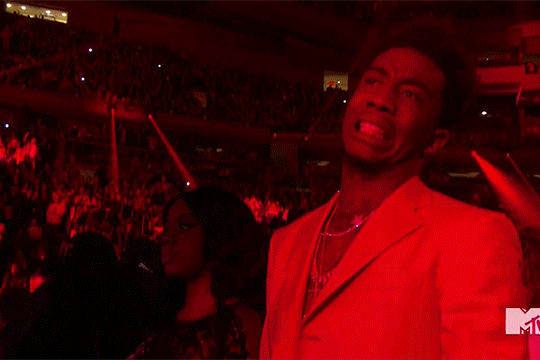 HIGH: The Final Five.
America's first teens — minus Gabby Douglas, who, in a related LOW, was hospitalized before the performance — proved as endearing as ever, as they got to present one of Beyoncé's awards to the queen herself. In exchange, she hugged each and every one of them, like Galadriel blessing the members of the Fellowship of the Ring.
WHAT? Hailee Steinfeld's accent.
We saw you in True Grit, Hailee, and we're not sure why you feel the need to adopt the suddenly ubiquitous white-girl-tries-to-sound-black voice of Aubrey Plaza in Mike and Dave Need Wedding Dates or Ilana in Broad City.
LOW: Jimmy Fallon as Ryan Lochte.
There was almost no way for anything to matter at the VMAs after Beyoncé burned the place to the ground with her Lemonade medley. All that was left (or so we thought) was for Bey to collect her Video of the Year Moon Man for "Formation" and set us all free. So, having Jimmy Fallon come out dressed as Ryan Lochte and make lukewarm jokes about the swimmer's recent Rio debacle was an unwanted, unneeded delaying of gratification, one that was received as such in the laugh-free Madison Square Garden.
At least Michael Phelps seemed to enjoy it.