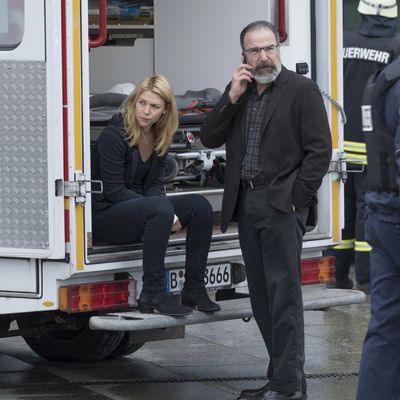 Claire Danes as Carrie Mathison and Mandy Patinkin as Saul Berenson.
Photo: Stephan Rabold/Showtime
With the very first question asked of Homeland's Alex Gansa at the Television Critics Association panel, the series's showrunner and co-creator confirmed that Rupert Friend's Peter Quinn is, in fact, not quite dead yet in the upcoming New York–set sixth season. "Quinn is alive. I can say that much," said Gansa. "We really want to be careful revealing what his condition is. I will just say that he suffered a major stroke last season and you're going to see a very changed and altered Quinn this year."
Gansa, along with series stars Claire Danes and Mandy Patinkin, spilled a few other details about the new season of the Showtime series, which premieres on January 15. It has the rather timely plot of following a recently elected president between her election and her swearing-in ceremony.
Gansa is aware there are only so many times they can pretend to kill Quinn.
"It's unquestionable that he had a fairly rough ride last season," Gansa offered as an understatement about a character who was shot and gassed with sarin last year. "I think Quinn, this coming season, will really represent a profound and familiar casualty of the war on terror for our audience. What he endured last year is different from what he's going to go through this year. It'll be a completely different animal. And this year, we also suffused the tension of his daily relationship with Claire's character."
What is Claire Danes's Carrie's relationship with the CIA?
"The truth is, Carrie's still not at the agency; when she's going to get back at the agency is [unknown]," said Gansa.
Carrie's relationship with Mandy Patinkin's Saul is still stressed.
"They have diverged," said Danes. "There has been a split that they've been working on repairing … and I think that Saul has really committed himself even more fully to the agency, and Carrie rejects some fundamental principles of it. But they are so profoundly bonded, and that's not something they are ever going to relieve themselves of."
Elizabeth Marvel plays President Elizabeth Keane. But her values are nonpartisan.
"Every season when we're developing stories, we're terrified of being counterfactual or irrelevant," said Gansa. "This year, we're sort of hedging our bets. Although she's a woman, she's a little bit Hillary, she's a little bit Donald Trump, and a little bit Bernie Sanders."
Gansa said that this season will also be about educating a new president, who happens to be a junior senator from New York.
They've learned that counterterrorism experts are concerned about this election.
"I think it's fair to say there's some concern," Gansa said, adding, "This year, we told people we were going to be back in New York, and we learned a lot more about counterterrorism policies that are in effect right here in America. We talked about the Iran nuclear deal because a lot of that business gets done in New York City. And also, frankly, about how law enforcement in this country is treating the Muslim community right now and how they have been treating them since 9/11."
He said Carrie will deal with this last point on the show.
Why New York instead of D.C. during a season about an election?
"New York is the interface for a lot of counterterrorism outfits," said Danes, who also added that she likes that she's filming in the city where she and her family live. "As always, Homeland is kind of charging toward the most compelling event in our culture, which happens to be politics right now."
Gansa added, "The most life-altering, country-changing event happened in New York on September 11, and we are still dealing with repercussions with that in our country — those are issues we are going to see this season."
F. Murray Abraham's all-knowing Dar is back.
Dar and Saul are tasked with briefing the new president. "He's the ultimate barnacle, and he's the one most threatened by [a new regime]," said Gansa.
Despite its renewal through season eight, there is no end game yet.
"We take this show season by season," said Gansa. "Just pie in the sky, I think we'd like to take this show back to Israel."