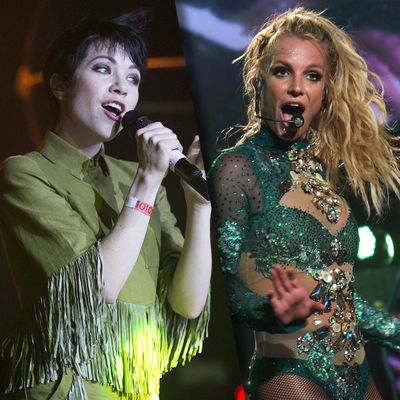 Carly Rae Jepsen and Britney Spears.
Photo: Getty Images
There were two kinds of pop stars in the '80s: Those who scratched out hits as fast as possible until their batteries gave out, and those who moved with surgical precision, working through new looks and sounds, before vanishing for years to restructure. There were stars who shone bright and fast, like freestyle-music luminary Lisa Lisa, who logged two platinum albums and a string of memorable singles including "I Wonder If I Take You Home" and "Head to Toe" in the space of three years, then tumbled down the charts for good. On the other end of the spectrum, there were the Janet Jacksons and Madonnas who, every three or four years, checked in with a vibrant, personal, political album armed with enough singles to keep them on the charts and terrestrial radio while they toured, recorded more, or just plain took time off. 
The most successful acts this century — Rihanna, Beyoncé, etc. — have followed the latter path to sustained renown. But the freedom of a radically changed music industry has afforded new avenues to continued relevance that weren't available 30 years ago. New releases yesterday from Britney Spears and Carly Rae Jepsen illustrate ways to hold court outside of the pomp and circumstance that pop regency demands.
Britney Spears is not spoken of with the hushed respect reserved for pop royalty, but she's had a No. 1 single in the '90s, '00s, and '10s, giving the lie to the notion of a short shelf life for stars of late-'90s bubblegum pop. Her only peers in that respect are Justin Timberlake and Christina Aguilera, fellow Mickey Mouse Club alumni whose singing careers outlived the death of TRL and the birth of digital piracy.
Now, Spears lacks both Timberlake's rep as a capable songwriter and a powerhouse voice like Aguilera's. What keeps her afloat is tenacity, a network of die-hards, and a keen sense of what's new and hot. Her albums don't always hit the mark, but they always notch a hit. Even amid the success of 2013's goofy, charming "Work Bitch," Spears's last album, Britney Jean, garnered negative reviews and floundering sales. A two-year Vegas residency following its release gave rise to suspicion that the Louisiana singer was ready to embrace a future as a nostalgia revue.
This summer, Spears's return was hinted at over a tantalizing network of teaser-trailers and surprise late-night appearances. In July, she sneakily used an ad for a new Kohl's exclusive fragrance as a ruse to release the new single "Private Show." Weeks later, she snuck into Jimmy Kimmel's bedroom with a troupe of male dancers to wake him up by performing the woozy new G-Eazy duet "Make Me … " for a prank segment on his show. The hijinx helped: The song peaked at No. 17. Her new album, Glory, is out now, and its team of collaborators is savvy: Lady Gaga's Artpop cohort Nick Monson, Norwegian electronic beatsmith Cashmere Cat, rising Swedish writer-producer duo Mattman & Robin, and T-Pain associate Young Fyre all provide sounds that match the triumph of the album title. "Just Luv Me" is a tropical house bop that'll crush at radio when it's ready. Spears tiptoes around her upper register for "Private Show," and comes away with a confident, soulful performance. The reward for the singer's care in slipping out of her comfort zone while keeping her sights trained on radio is that Glory is one of her best outings in nearly a decade.
Carly Rae Jepsen doesn't court hits so much as craft excellent albums expected to spawn them. This would seem to place her among the ranks of the A-list stars of her time, and for a fleeting handful of months, it did. A sunny melodicism won her multiplatinum smashes in "Call Me Maybe" and "Good Time," off her 2012 major-label debut Kiss, which presaged the nostalgic electropop Taylor Swift would eventually arrive at on 1989. Jepsen connected with a bigger audience opening for Justin Bieber the following year, but the influx of attention post-"Maybe" proved fairweather. Last year's Emotion did better on year-end lists than sales charts, with the effervescent lead single "I Really Like You" barely scraping the top 40. Cachet among critics and gifted songwriters like Sia, former Vampire Weekend member Rostam Batmanglij, and Dev Hynes of Blood Orange makes for fantastic music, but the masses don't seem to know Jepsen.
In another era, this change of fate might've spelled doom, as it did for the more fleeting talents of the '80s, but 2016's fertile festival circuit provides a worldwide playground on which to grow new audiences. After her worldwide Gimme Love tour, which ping-ponged from clubs to appearances at overseas arena shows, Jepsen came home to bless fans with a gift. Emotion: Side B compiles eight songs left over from the fruitful Emotion sessions into an companion EP. The '80s influence is thick: Gems "First Time" and the Dev Hynes–assisted "Body Language" border on freestyle, while deeper cuts like "Higher" and "The One" conjure Body Talk–era Robyn, and "Cry" juggles R&B and new wave like peak Prince.
Unearthing the cuts Jepsen didn't exactly want for the proper album, and revealing their mechanical precision and casual excellence, shores her up as a pop talent so sharp even her throwaways sting. It's unwise to expect an abruptly announced EP of B-sides from a cherished but undervalued album to do numbers. But Emotion: Side B goes to show that Jepsen has the chops, and well-received gigs like her set last month at Pitchfork Music Festival are proof there's an audience out there somewhere. (She's also gaining notoriety in Japan as the face of the shampoo company Moist Diane, the ad for which is just hilarious.)
Britney Spears's gravity-defying hit parade and Carly Rae Jepsen's refusal to go out as a one-hit wonder are anomalies unique to the current state of the music industry. Glory made clever use of viral marketing to rekindle excitement in and outside of Spears's fan base in the wake of worries she'd run out of steam. Emotion: Side B maintains Carly Rae Jepsen's excellent batting average while zeroing in on an aesthetic that endears her to an audience that, yes, is smaller than the one she played to in her commercial peak, but which seems interested in Jepsen the artist, not Jepsen the person who sang "Call Me Maybe."
Very little of this was possible even ten years ago, when festivals like Coachella were just finding their footing, and YouTube was in its infancy. In 2016, with artists maneuvering through a music industry that spills out out over TV, film, the internet, and (perhaps too many) festival stages worldwide, we shouldn't speak of pop stardom as a game of queens, kings, and peasants, but also of lords and ladies, and dukes and duchesses.