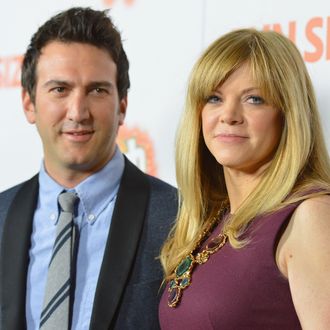 Josh Schwartz and Stephanie Savage.
Photo: Alberto E. Rodriguez/Getty Images
This is not the live-action adaptation of Seth Cohen's Atomic County you have been waiting for since 2004, but it's close. Per Deadline, Hulu has ordered a pilot, as well as additional scripts, for a live-action adaptation of Marvel's Runaways from Josh Schwartz and Stephanie Savage, who created Gossip Girl. Schwartz also created The O.C, which Hulu recently acquired. This series was developed with ABC Studios and Marvel TV, which is also responsible for ABC's Agents of S.H.I.E.L.D. and a whole slew of Netflix dramas, though this Marvel project will go to Hulu. Runaways follows a group of teens who discover their parents are part of a criminal organization. Because they are teens, the six heroes "can barely stand each other," even as they unite against their parents. So, are we gonna get another Spider-Man kiss?