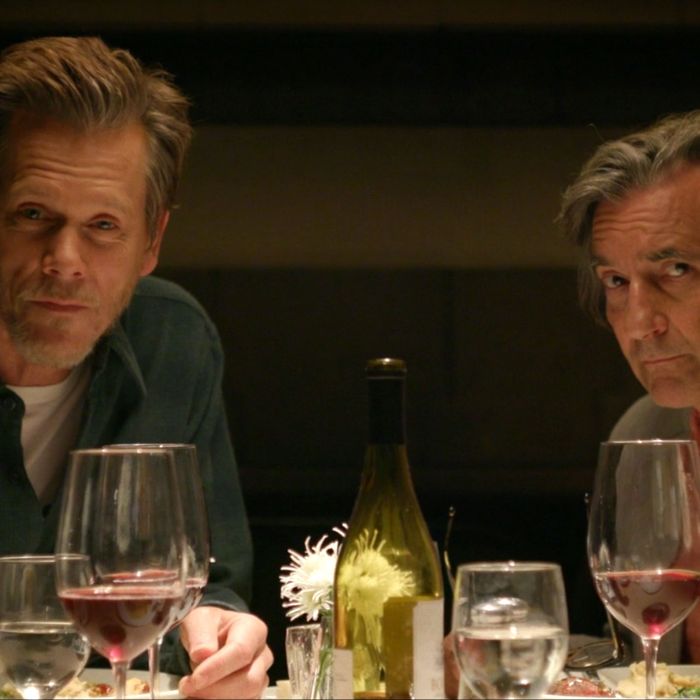 L-R: Kevin Bacon and Griffin Dunne.
Photo: Amazon Studios
There are a lot of reasons why Amazon should, and most likely will, give a full-season greenlight to I Love Dick, a pilot that started streaming Friday on the platform that Jeff Bezos built. The series was co-created by Jill Soloway, who's also responsible for Transparent, the most lauded and culturally resonant piece of original programming Amazon has produced so far. It stars the always terrific Kathryn Hahn and Kevin Bacon in a part that makes him more infuriating and deeply sexy than he's been in years. It's based on a feminist epistolary novel by Chris Kraus that has an ardent cult following. And unlike so many pilots that feel like tentative toe-dips into narrative pools, I Love Dick, in just a single 32-minute episode, already feels like part of a fully formed narrative whole.
In fact, there's one scene in the pilot that shows how effective this show could be, and already is, at capturing what it feels like to be a woman shoved aside by men.
It unfolds around 17 minutes in, when Hahn's Chris, a floundering filmmaker, and her writer husband Sylvère (Griffin Dunne) have dinner with Dick (Bacon), who leads a seminar in Marfa, Texas, and has just taken on Sylvère as a fellow. They're eating at a restaurant with a name that's both very Western and slightly erotic — The Rope and Loin — and eventually turn the conversation to what Chris does for a living. She explains to Dick that she's a filmmaker whose most recent movie was supposed to screen at the Venice Film Festival, but was pulled at the last minute due to a conflict over music rights. When Dick asks what her movie is about, Chris summarizes it in a way that makes it sound a lot like what we've seen in I Love Dick up to this point, which has focused mostly on Chris and Sylvère. "It's about a couple," she says. "Well, the woman in the couple. She represents all women. Society's, you know, crushing expectations."
Dick is not impressed. "It sounds horrible," he replies, and after suggesting that Chris lacks the work ethic to be a director, he drops this bombshell of sexist condescension: "Maybe this supposed graveyard of unmade films by women filmmakers is there because, ultimately, most films made by women aren't that good."
It's a turning point moment from a plot perspective, because, as we see a few minutes later, Dick's disdain is what prompts Chris to announce her plans to stay in Marfa and audit his seminar. But what's more striking about the scene is its execution.
Soloway, who directed this episode, blocks the action so that Chris always looks like she's on a distant island from the two men across the table from her. Formation-wise, the three of them create a Y, as in chromosome, with Chris serving as its most distant point. When the two men lean toward each other — at one point, Dick asks Sylvère, conspiratorially, "Have you seen this film about society's crushing expectations?" and can barely say crushing expectations without laughing — they create a wall that's impossible for her to penetrate. What Soloway expresses here visually gets at exactly Chris wants to convey about society's crushing expectations. But you get the sense that Soloway is far more subtle and deft in her efforts than her protagonist might be. Chris is up against a creative system that isn't very generous to women, but you also sense that she knows she has creative flaws that she hasn't adequately addressed, which is why Dick can so effectively pick at her fresh emotional scabs. When faced with Dick's dismissal, her immediate, instinctive response is to retreat to the ladies' room, a wonderful touch on Soloway's part.
The scene also works as well as it does because of these actors. Hahn gets understandably fired up when Dick says, "films made by women aren't that good," but she conjures up a wider range of emotion — confusion, hurt, arousal — that gives the scene a texture it would lack if it were purely about surface feminist outrage. As for Bacon, well, his comments could easily spark about 1,000 ranty think pieces. But something about the way he says what he says inspires interest instead of revulsion. It's unclear what Dick's motivation is: As Sylvère suggests, is this just his way of lighting a creative fire under Chris? Or is he really just … well, a dick? Bacon never tips his hand far enough to clarify, which signals that Soloway, whose adaptation of I Love Dick is only very loosely based on the book, will have some interesting things to say about gender roles and the complicated factors that often hold women back and make some men feel entitled and arrogant.
So far, the "customer reviews" of the I Love Dick pilot have been decidedly mixed, suggesting the show could be a love-it-or-hate-it proposition for a lot of viewers. Personally, I appreciate that I Love Dick is so self-assured that it can not only conjure a strong sense of place, tone, and purpose in its first episode, but is capable of doing all of that in a single, crucial sequence. It is rare for a show to accomplish that this effectively out of the gate. In the coming weeks, as the fall TV season unleashes a floodgate of pilots on the public, the rarity of that will become even more apparent.
Which is why I'm hoping to see more of Soloway's I Love Dick. There is indeed a graveyard of unmade films by women filmmakers, as well as a graveyard of incomplete TV shows created by women. Already, this show has proven it deserves something more than another tombstone. It deserves a prominent seat at the table.