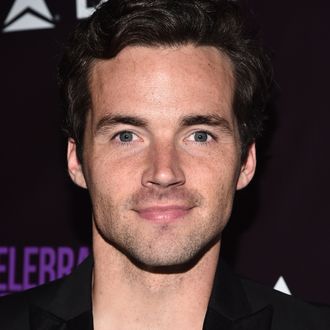 Photo: Alberto E. Rodriguez/2016 Getty Images
Has Ian Harding spent the last six years fantasizing about how to ruin things for Pretty Little Liars fans? Harding's character, Ezra Fitz, is going through a real rough patch in the show's seventh season right now. He even told the Wrap recently, "[Ezra] is really at the bottom of the barrel. At this point, he doesn't even care," adding that, "He's pretty blinded by rage and hate." So maybe it's all that hate-rage fueling the actor's machinations about what his dream ending for PLL would be, which he shared at the Television Critics Association event today:
"Maybe something horrible happens and we don't know what happens to the girls, like they all drive off a cliff. And then the camera pans out and I'm laughing maniacally," he suggests with a laugh. "I think it would be fun if we found out Ezra was behind it the whole time."
"With a laugh"?! Damn, Fitz! You might as well explicitly say, "Let's take this group of four women who are riddled with PTSD and have been emotionally terrorized for something like eight years in the show's timeline and just, well, kill them in hideous fashion." In Harding's defense, he did also suggest a more fan friendly if too-saccharine ending in which the whole series was a dream, and for a parting shot we see his character next to Aria (Lucy Hale), "in prosthetic makeup à la the end of Harry Potter so we look really old with kids and all that." Despite speculation about how PLL will end, it is still unknown whether or not the current seventh season will be its last. But no matter when it wraps up, maybe keep Harding away from the writers room from now on.