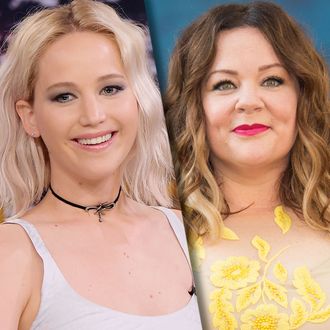 For the second year in a row, Jennifer Lawrence has made it to the Forbes list of highest-paid actresses, with $46 million in pretax earnings. That's enough to buy 2.2 million miracle mops! According to Forbes' calculations, most of her income comes from the Hunger Games franchise as well as her upfront fee to get all dewy-eyed in space in Passengers. Last year, Lawrence earned $52 million. In second and third place are Melissa McCarthy and Scarlett Johansson, who traded places from last year's list. McCarthy earned $33 million, thanks in a large part to an eight-figure fee for Ghostbusters; Johansson made $25 million, $17.5 million of which was for her controversial lead role in Ghost in the Shell. For the second year in a row, Forbes considered actresses working primarily outside the U.S., including Chinese film star Fan Bingbing, who placed fifth this year (and fourth last year), and Bollywood's Deepika Padukone, who placed tenth.
The top ten earners are as follows:
1. Jennifer Lawrence: $46 million
2. Melissa McCarthy: $33 million
3. Scarlett Johansson: $25 million
4. Jennifer Aniston: $21 million
5. Fan Bingbing: $17 million
6. Charlize Theron: $16.5 million
7. Amy Adams: $13.5 million
8. Julia Roberts: $12 million
9. Mila Kunis: $11 million
10. Deepika Padukone: $10 million 
Read Forbes' reasoning behind its rankings here.