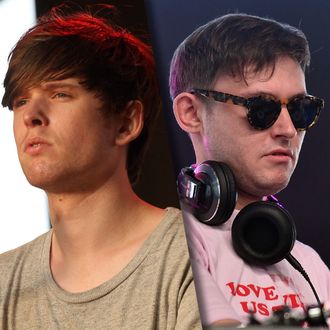 Well that was entertaining.
Photo: Getty Images
In this week's producer-but-also-artist-in-their-own-right beef, please welcome James Blake and Hudson Mohawke to the ring. As is generally the case with people who claim to be in the know, this Twitter scuffle unfolded online when Scottish producer Hudson Mohawke (best known for working with Kanye) tweeted to a fan that he and Blake had been working together on new Frank Ocean music that would likely never "see the light of day." (A previous beats file of HudMo's titled frank o0000oocean leaked online last year.) Quickly putting a stop to any hype, Blake responded by tweeting, "As talented as I think he is, I've never worked with Hudson Mohawke and don't know what he's talking about. I'm respectfully baffled." And here's where our dustup gets messy: HudMo, who's previously accused Kanye and Drake of not compensating him for beats, then shared a 2014 email from Blake discussing working together.
HudMo also clarified that Blake had "tried a few things" for 2015's Lantern that didn't make it, and that HudMo personally worked with Ocean, but it didn't pan out. Blake responded once again:
Since that burn, HudMo says he has "no issue" with Blake and that he's going to stop "reacting." Because, really, all it takes is another email from Blake to Beyoncé to have HudMo blacklisted.