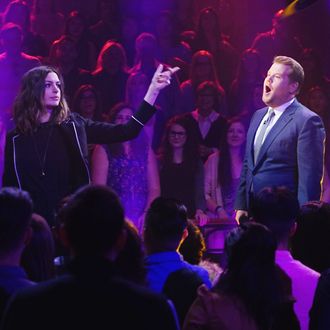 James Corden and Anne Hathaway.
Photo: Monty Brinton/CBS
James Corden has been on American TV barely more than a year, and he's already proving himself the Dick Wolf of late-night segments turned series: TBS announced on Thursday it has given a straight-to-series order to Drop the Mic, a reality competition show based on the Late Late Show bit in which celebrities face off in humorous rap battles. After Apple Music's pickup of Carpool Karaoke, this is the second time a Corden segment has been turned into a series; counting Spike TV's off-brand Caraoke Showdown, it's the third.