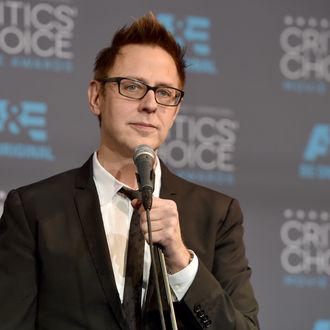 Photo: Alberto E. Rodriguez/Getty Images for A&E Network
Guardians of the Galaxy filmmaker James Gunn weighed in on the controversy caused by reports that the upcoming Spider-Man: Homecoming will change the race of a popular Marvel character. It turns out that actress Zendaya will play Homecoming's version of love interest Mary Jane Watson — a character previously portrayed as white.
In a Facebook post published Friday, according to EW, Gunn supported casting actors of color to play traditionally white characters. "People get upset when something they consider intrinsic to a comic book character changes when adapted for a film," Gunn wrote. "I get this." But he added, "I do not believe a character is the color of his or her skin. … For me, if a character's primary attribute — the thing that makes them iconic — is the color of their skin, or their hair color, frankly, that character is shallow and sucks. For me, what makes MJ MJ is her alpha female playfulness, and if the actress captures that, then she'll work."
Read Gunn's full post below.