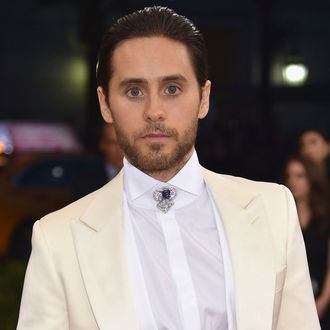 In the future it really is only 30 seconds to Mars.
Photo: Dimitrios Kambouris/Getty Images
Joker, joker, and method actor extraordinaire Jared Leto has joined the cast of the Blade Runner sequel. Denis Villeneuve (Sicario, that upcoming movie with Amy Adams and aliens) is directing the sequel, which also counts Ryan Gosling, Robin Wright, Mackenzie Davis, and Barkhad Abdi among its cast. The movie is aiming for an October 6, 2017 release date. Harrison Ford will reprise his role as Rick Deckard, as seen in Ridley Scott's 1982 film. Plot details are under wraps, so Jared Leto's "key role" isn't clear at this point, but it is clear that whatever Leto is playing — whether human, android, or turtle lying on its back — he will definitely commit to it.