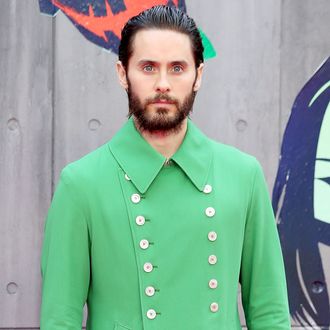 Jared Leto wearing the jacket in question.
Photo: Chris Jackson/Getty Images
Jared Leto took a major fashion risk at the European premiere of Suicide Squad, showing up in a lime-green Gucci jacket that looked like something Buddy the Elf might have worn had he been a 1960s mod. Tom & Lorenzo liked it! Twitter being Twitter, it wasted no time before turning the ensemble into a meme, particularly when one Jason Momoa fan discovered that Leto had actually been in attendance for the jacket's runway premiere, greeting its appearance with the delighted look of a child who'd just been handed a year's worth of candy:
Unfortunately, in an interview with Vanity Fair, Leto says that's actually not what happened at all. "The thing about the photo is — I'm going to be honest with you — I was actually making a face at someone across the runway," he explained, adding, "Sorry to ruin your meme. Perception versus reality." When the question arose of whether it might be more fun for someone to believe he had been reacting to the jacket, Leto demurred: "Or you could tell the real story. That would be interesting." You know, I'm starting to think that he's not very sorry at all.