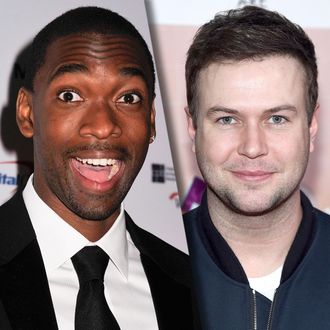 Pharoah and Killam.
Photo: Getty Images
That was fast! In less than a week, Saturday Night Live veteran cast members Jay Pharoah and Taran Killam went from being unceremoniously unemployed to scoring their own comedy pilots for Showtime, the network announced during its session at the Television Critics Association press tour Thursday.
Pharoah will play the lead in a half-hour comedy executive produced by Jamie Foxx and Californication's Tom Kapinos. Based on Foxx's experiences as a rising comedian, the pilot will focus on an African-American comic who struggles to maintain his integrity and credibility as he becomes widely accepted by a mainstream white audience. Foxx will have a recurring role as well. 
Killam, meanwhile, will star in Mating, from executive producers Jason Katims (Friday Night Lights, Parenthood) and Stu Zicherman (The Affair, The Americans). Killam will play a recently divorced guy forced to confront the modern hookup scene. If picked up to series, Mating (a working title) will be the network's first comedy anthology program, with each season focusing on a different protagonist's journey through the world of dating and relationships.
Pharoah and Killam were featured players on Saturday Night Live for six years, until NBC announced this week that neither actor's contract would be renewed, which was a surprise to them. It was also a surprise to Showtime executives, said Showtime Networks President and CEO David Nevins at the network's TCA press conference. According to Nevins, the network had been in talks with each actor individually for a few months.
"We were prepared to work around their SNL schedules," Nevins said, adding they were aware each actor had only one year left on their contracts. "But our schedule got easier when they got released from the show."