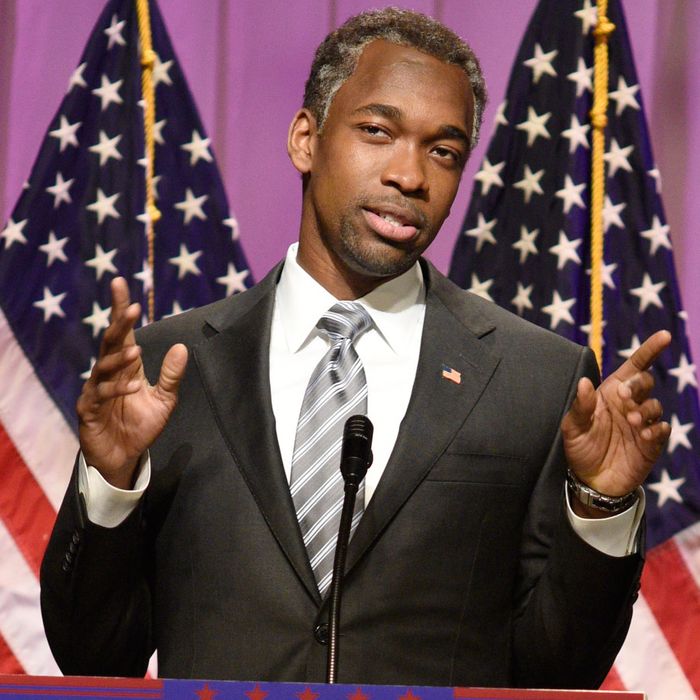 SATURDAY NIGHT LIVE – "Ariana Grande" Episode 1698 – Pictured: Jay Pharoah as Doctor Ben Carson during the "Carson Endorsement Cold Open" sketch on March 12, 2016 – (Photo by: Dana Edelson/NBC/NBCU Photo Bank via Getty Images)
Photo: Dana Edelson/NBC/NBCU Photo Bank via Getty Images
When Jay Pharoah was cast on Saturday Night Live in 2010, he represented a new path to becoming a cast member: A year early he had done an impression of President Barack Obama that went viral. It was different than the path of the Lonely Island, who had started in digital but got hired for SNL by working with Jimmy Fallon and some SNL producers on an unrelated job — Pharoah's casting was a direct result of an online hit.
People were understandably surprised, then, that Pharoah wasn't immediately asked to take on the role of Obama when he joined SNL in 2010. (The show stuck with Fred Armisen for Pharoah's first two seasons.) The reality is that though Pharoah came to the show as a gifted mimic, he had yet to grow into a true impressionist. His takes on celebrities tended to simply replicate how they sounded, as opposed to the sorts of great SNL impressions that figured out how to heighten the subject's entire persona.
In time, of course, Pharoah mastered that skill, even if his Obama continued to be challenging to make funny and was often relegated to the straight man in scenes. Pharoah's take on Shaquille O'Neal is a thing of comedic beauty. His "rapper meeting" and "black-comedian meeting" appearances on Weekend Update were impersonation showcases, with Pharoah able to not only do the voices but also embody the spirits of so many people so quickly. And what he did this year with Ben Carson, turning the good doctor from a soft-spoken shell of a candidate into a guy that could be a villain in an erotic thriller, was arguably his best embodiment work yet.
It took longer for Pharoah to find his sea legs in sketches where he wasn't doing impressions. He has been doing stand-up since he was 15, but came to the show, as many do, unfamiliar with the rhythms of live sketch. Though he never had a big breakout character (Principal "Attention teachers and students" Frye had a nice run), Pharoah grew into a valuable member of the ensemble. He leaves the show with an enviable stand-up career and the sort of versatility that should keep him working comfortably in comedy for years to come. Here's a look back through Pharoah's archive at some of his best moments.
"Field Day"
This series of school-assembly sketches is probably best known as "attention teachers and students," for the catchphrase of Principal Frye, Pharoah's most popular recurring character.
"How's He Doing?"
A recurring talk-show sketch in which black journalists and intellectuals discuss how President Obama is doing. (He's doing very well.) 
"Black Jeopardy"
It's good that Pharoah got to be in at least one stone-cold classic, and this most definitely is one.
"What Does My Girl Say?"
A rare parody of an already-comedic song, Pharoah does a good job underplaying, if not deadpanning, the music video-ness of the sketch. 
"28 Reasons"
A song about the reasons for Black History Month, where, reasonably, a lot of the reasons are slavery.
"Drinks at the White House"
Pharoah never got to do a lot with Obama, which seemingly had more to do with Obama's real-life evenness than anything else. I like this sketch because Pharoah gets to be a bit more loose and goofy than normal as the commander-in-chief.
"Maya Angelou Prank Show"
With such an arsenal of impressions, SNL was able to plug him even when the sketch wasn't necessarily about his impression, but his presence helped heighten the comedy nonetheless.
"Comedians Meeting"
A cavalcade of impressions of his fellow comedians. It's dizzying.
"Rappers Meeting"
Listen to the audience. This crushes so hard. 
"Charles Barkley and Shaquille O'Neal on the NBA Playoffs"
It's fun to go through all of Pharoah's turns as O'Neal and see how he slowly made him weirder and weirder. This is where it ended up.
"Young Ben Carson"
It says something that in an election that has Donald Trump, Pharoah made Carson the strangest candidate.