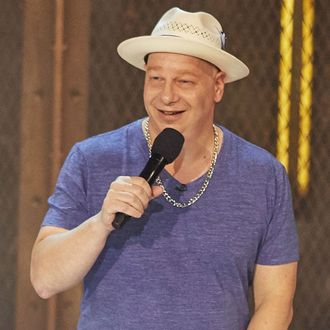 Photo: Riccardo Cellere/Comedy Central
Thirty minutes before the live taping of the finale of Jeff Ross Presents Roast Battle, which took place as part of last weekend's Just for Laughs Comedy Festival in Montreal, there was an appropriately electric atmosphere in the venue. The previous three nights' rounds, each broadcast the following day on Comedy Central, had whittled down the field of competitors. As the finalists prepared to roast, "The Wave," Roast Battle's controversial trio — imagine a cross between a sketch troupe and fans at a street basketball game that freak out when someone is dunked on — were doing everything they could to get the energy up.
They had a twerk-off for a T-shirt signed by everyone involved in the night's program. They played catch with a Nerf football. They shouted out comedians in the audience. ("It's the Sklar Brothers, y'all!") They started chants. It was like this all week in Montreal, and it needed to be if Comedy Central was going to really sell the "battle" aspect of Roast Battle. After all, below all the pomp and pumping up, it was a pretty nerdy joke-writing competition, one rooted in the history of comedy.
Insults obviously go back for millennia, but the idea of a roast joke, a zinger meant to be both tribute and condemnation, is closer to about 100 years old. Barry Dougherty, a historian and roaster at the Friar's Club, told Time the club started doing a proto-version of their famous roasts around 1907, a few years after it opened. Though language has changed since then, structurally the roast joke hasn't. What has changed is where they are now found.
Though the Friars Club still exists, as well as the Comedy Central Roasts they inspired, it is through the Roast Battle, a merging of roast jokes and the rap battle, that the form has become revitalized. Born out of an attempt to avoid a fight at L.A.'s Comedy Store, Roast Battle has grown into a cult, with independent competitions happening across the country. The goal of them all is the same: not to humiliate the other person, but rather to display one's pure joke-writing ability. And, okay, sure, to humiliate the other person a little bit.
To highlight the craftsmanship involved, I spoke with the titular Jeff Ross, a.k.a. the Roastmaster General, about his favorite jokes from the Montreal tournament.
Round 1 
Jimmy Carr, about Christi Chiello
"I was going to talk about Christi's career, but it's like try to punch fog, there's nothing there. There are ISIS sleeper cells with higher profiles. I looked her up on the internet and Google said, 'Me either.'" 
Jimmy Carr, who is a tremendously famous comedian in England, went into the Roast Battle as the favorite after winning it all at the non-televised tournament during last year's Just for Laughs festival. As these things go, in the first round, he went up against a much less-experienced opponent — Christie Chiello. As Ross put it, Carr's first joke "took Chiello's whole life in one moment." Ross explained, "Sometimes you roast a different part of a person, like their shirt or their hair. But if you can capture their essence in a joke, it's really hard to swing back from that."
Sam Morril, about Steve Rannazzisi
"From a scale of one to ten, I'm going to give that a ground zero, Steve."
When it was first announced that Rannazzisi would be competing, everyone could anticipate what the jokes would be about. When you lie about being in 9/11, people tend to bring it up. Morril brought it up instantly, with the audience exploding from the release of anticipation. For Ross, it succeed by being "funny without being cute," since sometimes roast jokes can feel "like math" — like an equation of inputs and outputs.
As Ross explained, another key for this one was that he himself set the tone for the battle ahead of time by making jokes about Rannazzisi and 9/11. "Milton Berle used to do that," Ross told me. "At the Friars Club roasts, he would do the dirtiest jokes up front, so then you'd be like, 'There's nothing left.' But in a way, he kind of breaks it open." Here, Ross's jokes freed the audience up to laugh at what Rannazzisi did.
K. Trevor Wilson, about Olivia Grace
"Olivia, you've had so many old comics in you, your pussy's called the Friars Club."
Despite the fact that Grace had cut open her leg the night before — to the point where she was in a wheelchair — Wilson did not take it easier on her, dropping what was unquestionably the best set of the round. This joke was able to both kill and tip a hat to those who came before him. "It showed a respect for the traditions," Ross told me. "Still, it was super-mean."
Semi-Finals
Mike Lawrence, about Ralphie May
"Ralphie's going through a divorce. It says a lot that your wife would rather take half your money now, when she can just wait three months to get all of it."
Night three of the tournament was arguably the strongest, and Lawrence's was the best set of the night. Hiding a fat joke inside a divorce joke, it just killed. "That was a show stopper," said Ross. "It paralyzed Ralphie." He added, "I know Ralphie and his wife well and that one cut deep. These battles are meaner than the celeb roasts."
Sarah Tiana, about Sam Morril
"Oh Sam, you made so many old jokes on me tonight. And, that's true, I am old enough to be your mother — and just like your biological mother, in about five minutes, I'm never going to think about you again."
Morril went hard against Tiana for being old, a move often seen when roasting women. (After the James Franco roast, Sarah Silverman was taken aback by all the old jokes, despite the fact that Ross is older than she is.) Finally, when they got to the one-joke sudden death, "She did not hold back," said Ross. "She expertly turned his comments against him, and that's why she advanced."
Tony Hinchcliffe, about K. Trevor Wilson
"You look like you use the n-word. And that n-word is nom nom nom nom nom."
Hinchliffe, who is sort of a protégé of Ross's, subverted roasting with this one. "It's an edgy premise leading to a silly punch line," explained Ross, noting that Hinchcliffe knew he was playing for a room filled with comedians and industry. "It's how you kill with a wise audience." Also helping him was his outfit. "Tony is my student," said Ross. "And his knight costume was right out of my roasting playbook. I told him he better up his game after he squeaked by Normand and he did."
K. Trevor Wilson, about Tony Hinchcliffe
"I just want to say, yesterday, Tony battled Mark Normand, and he made a joke about Tony hitting his girlfriend. And I want to say that is not true. That is bullshit. Tony never hit his girlfriend … Faggots don't have girlfriends."
Again Wilson scored big with bluntness, and also by smartly considering the context of his joke. "I loved how he used the tournament style to his advantage by calling back a previous roasters harshest jokes," said Ross, who called it "very sublime." It effectively built on the impact of Normand's joke, as if a boxer took advantage of his opponent's injury from a previous fight.
Earl Skakel, about Jimmy Carr
"Jimmy every time I see you, I expect to see David Beckham around you, because you're such a posh cunt."
How do you beat an overwhelming favorite? Well, if they are known for their overly verbose, dense insults, you do the opposite. Carr was very good in this round, but the judges — Seth Rogen and Jimmy Kimmel — didn't love his rapid-fire, clipboard-holding approach. What they did like was the bluntness of this joke. "The less words, the better in a roast joke," Ross told me. And in this round, Skakel displayed an "economical use of the language."
Final Four
Earl Skakel, about K. Trevor Wilson
"K. Trevor's favorite soda is ginger ale. Not because he's a redhead but because he leaves every girl in Canada dry."
In the consolation match-up, Skakel dropped one of the best-crafted jokes of the whole tournament. It's a smart joke, but it isn't a thinker," said Ross, "so it got a huge guttural reaction." Skakel had such a gross, vivid punch line that it countered any cuteness that came with the wordplay.
Mike Lawrence, about Sarah Tiana
"People are asking me tonight if I'm going to put Sarah in her place. She's a 38-year-old woman in comedy, there isn't one."
This was Lawrence's first joke in the final round, and, speaking as someone in the room, it felt like the competition was over right there. Ross called it a "haymaker punch line." The clever bit was that it turned the tables and had Lawrence playing the feminist card, taking some of the goodwill that Tiana had going into this away from her. "Whenever you can sum up someone's entire career in a single sentence, you are a roasting maestro," said Ross, "and that is what Mike did here." Though Ross doesn't think Lawrence's assessment was correct with Tiana, it rang true and "sure was funny." This was why he won the whole thing.