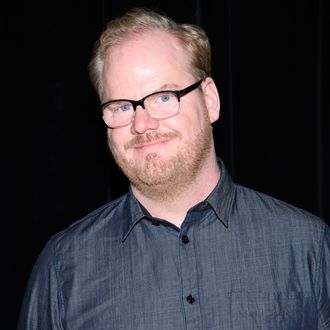 Photo: Dave Kotinsky/Getty Images
After just two seasons, television program and human-spawn co-creators Jim and Jeannie Gaffigan have decided to call it quits on their semi-autobiographical sitcom The Jim Gaffigan Show. Jim took to his Twitter on Monday to announce the couple's decision to make the second season, which aired this summer on TV Land, the final one. "We realize this may surprise some and we don't make this decision lightly," Gaffigan wrote. "It is hard to say goodbye to this highly personal passion project, which we have nurtured and poured our hearts into for over five years." He explained further:
It was empowering, exhilarating and exhausting. As many of you know all the episodes this season were written by Jeannie and me. Jeannie was the showrunner and I acted in virtually every scene. In one way it was a perfect scenario. We worked with an amazing cast and crew, learned tons and laughed so much. However, the time commitment to make the quality of show we wanted was taking us away from our most important project, our five children. We are truly grateful for all the support friends on social media and television critics have given The Jim Gaffigan Show. Jeannie and I are excited to move forward with other creative pursuits."

The show, which is loosely based on the Gaffigans' family life in New York, co-starred Ashley Williams as the fictionalized Jeannie and Michael Ian Black and Adam Goldberg as their friends. It also featured guest appearances by many high-profile comedians including Chris Rock, Bill Burr, John Mulaney, Will Ferrell, Janeane Garofalo, and award-winning actors Alec Baldwin, Steve Buscemi, and Nathan Lane.