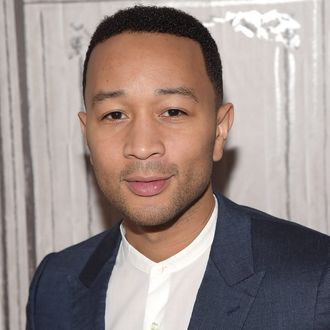 A glorious tweet for the ages.
Photo: Theo Wargo/Getty Images
Ever since San Francisco 49ers quarterback Colin Kaepernick made the bold decision to sit out the National Anthem during football games until he sees real systemic change to protect and value black lives, many Americans have shown their true stripes. His jerseys have been torched, a cesspool of racism has been spilled, and the think pieces are aplenty. But in the thick of it all, there's America's voice of reason: John Legend. While some NFL greats were busy last night tweeting misappropriations of Rodney King's words to prove an "All Lives Matter" point, Legend stoked the fiery hells of Twitter with the burn to end all burns:
Legend is a veteran in the music industry who has, indeed, sung the National Anthem on many an occasion (most recently at the NBA Finals), so you might say he's well-versed in the song's lyrics. He's also an activist committed to fighting racial injustice — having previously written an essay for Vulture on the death of Kalief Browder — who chose to weigh in on the controversy after admittedly only learning now of the anthem's often-ignored racist history. But Legend's tweets challenging Kaepernick's haters didn't stop at that mic drop; he tried educating trolls, proposed better songs to celebrate America than its anthem, and shut down skeptics of his politics.
Let the Legend-Teigen 2020 campaign commence!