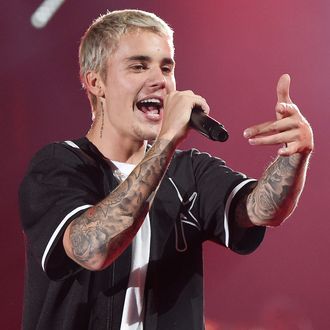 Is too late to say you're sorry?
Photo: Kevin Mazur/Getty Images
And the summer of celebrities jumping the social-media ship continues: Justin Bieber has made good on his promise to quit Instagram if fans wouldn't stop berating his new girlfriend, model Sofia Richie, on the app. Late Monday night, his account vanished. His Insta purge comes after Bieber requested that his fans lay off attacking Richie, only to then have his ex-girlfriend Selena Gomez step into his comments to shame him for broadcasting his love life on social media in the first place. (PDA he also showed during and after his relationship with Gomez, it should be noted.) He unsurprisingly responded by suggesting that Gomez used him for fame; Gomez has since called her comments "selfish and pointless" on Snapchat. Still, Bieber's Insta has become only the latest casualty in the summer of celebrity cyberbullying.
Back in June, Demi Lovato attempted to do a social-media cleanse after trolls drove her off Instagram and Twitter for siding against Mariah Carey (and other controversies). Of course, she returned the next day "more honest than ever." On the virtual opposite end of cyberbullying, Azealia Banks got suspended from Twitter in May for using hate language targeted at Zayn Malik, among others. She has since promised to quit all social media "for good" so that her legacy (and career) won't "live and die on the internet."
But the most vicious social-media attacks this summer were undoubtedly fueled by racism and lobbed at SNL's Leslie Jones and Olympic gymnast Gabby Douglas. Jones spent an entire day in July retweeting messages from trolls attacking her for being the black lead in Ghostbusters, in the hopes that Twitter would do something. The social-media giant eventually did take action, but not before Jones quit altogether. Thankfully, she returned to Twitter for all the marvelous coverage of the Olympics that landed her a flight to Rio and a spot on NBC's official roster for the Games, because revenge is a dish best served on a solid-gold plate. But even in Rio, Jones has had to watch another black girl with a lot of magic endure online harassment.
For the entirety of her second Olympics, Gabby Douglas has been accused of being unpatriotic and a bad teammate on social media and further bullied online over her hair, just as she was during her gold-medal run at London 2012. And while the persistent attacks — even now that her Olympics are over — haven't succeeded in driving her off social media yet, Douglas revealed in an emotional press conference in Rio that the trolling did personally affect her. Her own mother said it plainly: "You name it and she got trampled. What did she ever do to anyone?"
Whether or not Bieber (whose bullying can't possibly be compared to that of Douglas or Jones) will return to Instagram remains to be seen. But as we pour one of out for all of his stock images captioned with philosophical revelations about the meaning of celebrity and maybe even consider attending the #JustinDeactivatedParty, take comfort in knowing that, hey, at least his Twitter and Facebook have survived.