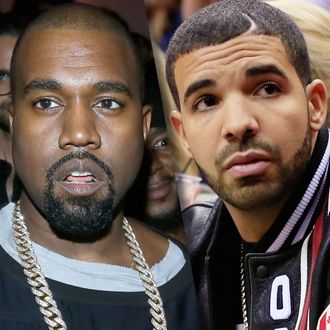 Watch the Views From Pablo?
Photo: Getty Images
Kanye has a master plan to end the streaming wars and it involves exactly whom you think. In an interview with Vogue, Kanye confirmed rumors that he and Drake are working on an album together. "We're just working on music, working on a bunch of music together, just having fun going into the studio," he said. "We're working on an album, so there's some exciting things coming up soon." In the grand tradition of teasing this album, he declined to give a release date.
Kanye previously talked about the album at a surprise appearance at Drake's OVO Fest in Toronto on August 1. "Is ya'll ready for this album?" he asked, pointing to Drake and clarifying that he wasn't talking about Views or The Life of Pablo. How ready should the world actually be for this rap union? Well, in the past, both Kanye and Drake have mentioned such a project, with Drake even telling Zane Lowe as recently as April that he and Kanye were "supposed to do a mixtape or album together, so maybe we'll get that done." Fast-forward to late July when Drake announced on tour that he's working on a new mixtape, while Kanye spent his weekend on Twitter pleading with Drake's boss, Apple, to buy Tidal. In other words, start watching their throne very closely.
This post has been updated throughout.