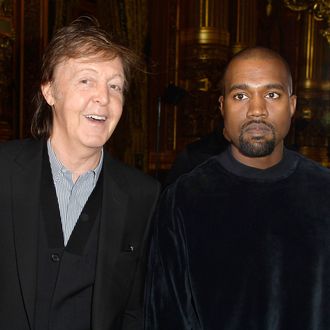 It worked out!
Photo: Pascal Le Segretain/Getty Images
When Paul McCartney worked with Kanye, Yeezy reminded him of another artist: Andy Warhol. The pair collaborated on "All Day," "Only One," and, perhaps most memorably, "FourFiveSeconds" with Rihanna, but it all happened on one condition. "The only deal I made with Kanye was that if it doesn't work, we won't tell anyone," McCartney told Rolling Stone. McCartney said the collaboration took place over a "few afternoons" in the Beverly Hotel, where he got to understand Kanye's process. "I'd heard things like, 'He's got a room full of guys working on riffs, and he walks around going, I like that one,'" said McCartney. "It reminded me of Andy Warhol, these artists who use students to paint their backgrounds and things. It's a well-used technique. I thought, 'I don't know how I'm going to fit into that, but let's see. Here goes nothing.'"
It worked out pretty well! "All Day" samples something McCartney had written back in 1969 and was a result of him telling Kanye the story of how he came up with it after the birth of his first child and he was looking at Pablo Picasso's The Old Guitarist. "I whistled it for him. His engineer was recording it, and it went into the pool of ingredients. Kanye was just collecting things. We weren't going to sit down and write a song so much as talk and spark ideas off each other," said McCartney. After he heard it, he thought, "'I get it. He's taken my little whistle-y thing.' It returned to me as an urban hip-hop riff. I love that record." So does he think Yeezy is the genius he claims to be? "I don't throw that word around," McCartney laughs. "I think he's a great artist." Good enough! Right, Kanye?