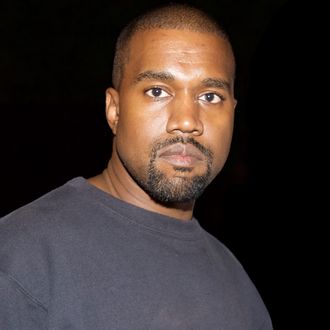 We're back in Yeezy SZN.
Photo: Earl Gibson III/Getty Images
In what will surely amount to the great hypebeast pilgrimage of 2016, Kanye West has kindly erected as many meccas as possible. For one weekend only (this one!), Kanye will open 21 pop-up stores around the world, on five continents. Starting Friday and ending Sunday, you'll be able to shop all the latest Kanye merch – likely pegged to his Saint Pablo tour, which kicks off next week in Indianapolis – in some of the world's biggest cities: New York, Los Angeles, Toronto, London, Amsterdam, Berlin, Singapore, Cape Town, Sydney, Melbourne, etc. (He previously opened pop-up stores for his Yeezus tour and The Life of Pablo.) None of the U.S. shops have exact addresses or opening times just yet, but patience, kids, you'll get to rock that ugly typeface soon enough. Vogue reports that each city will get T-shirts and hoodies with its name on it in Cali Thornhill DeWitt's Gothic script, which has now been knocked off by everyone. Kanye is also set to debut his Yeezy season-four collection at New York Fashion Week in early September, hopefully with even more new music.