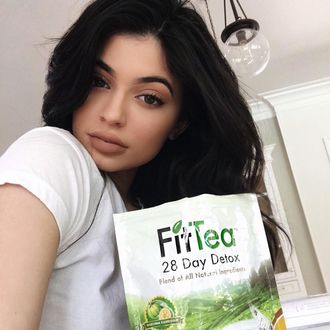 Don't you just love Fit Tea?
Photo: kyliejenner/Instagram
Here at Vulture, we can't claim to fathom the depths of the human heart, but let's just say that the Kardashian family's love of products like EOS lip balm, Lumee iPhone cases, and Fit Tea doesn't seem to be as pure as whatever is in Fit Tea. Like us and Meryl Streep in Doubt, Truth in Advertising has its doubts. The group sent a letter to the Kardashian-Jenner family listing over 100 Instagram posts that "violate FTC endorsement guidelines because they fail to communicate that they are paid ads." According to those guidelines, a clear and prominent disclosure is required on any paid content that isn't obviously an advertisement. TINA found that Kylie Jenner had the most "problem posts," while Kim had the second most. In its letter, the group said that if the family does not correct their posts in a week, it would file a complaint with the FTC. "The Kardashian-Jenner family and the companies that have a commercial relationship with them have ignored this law for far too long," Truth in Advertising executive director Bonnie Patten wrote, "and it's time that they were held accountable." As is her response whenever threatened, Kim Kardashian merely opened her Snapchat and started to scroll.