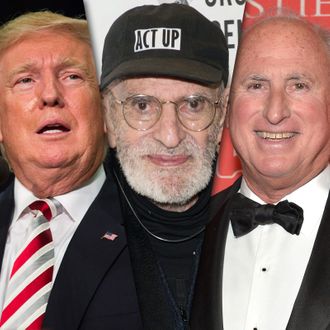 Trump, Kramer, and Roth.
Photo: Getty Images
Author, playwright, and activist Larry Kramer is putting pressure on the real-estate mogul Steven Roth to withdraw his support for Republican presidential candidate Donald Trump. Days before his Monday speech outlining his economic plan in Detroit, Trump had announced a list of his economic brain trust — a list of 13 men that was light on economists and heavy on billionaires, including one Steven Roth. In an "open letter" to Roth published on his Facebook page, Kramer excoriated Roth for becoming a part of the Trump campaign.
Kramer begins by thanking Roth for his support in producing Kramer's play about the AIDS crisis, The Normal Heart, on Broadway in 2010, as well as complimenting Roth's son Jordan, who is gay, before lobbing criticism. "I don't know why but I was incredibly shocked and disappointed when it was announced that you had become one of Donald Trump's billionaire brain trust," Kramer writes. "I could not believe that you could support a candidate, a vice-president, and a party that threatens many of the things that you hold most dear. The platform of the Republican Party is the most homophobic one in recent memory. Its candidates spout nothing but hate for your extended family."
Known as a firebrand, Kramer's language is more disbelief than outrage at Roth, but he doesn't hold back against Trump. "I cannot accept that such an intelligent and gifted man as I know you to be can believe that Donald Trump is anything but strange and scary, an indigestible cauldron of rotten and poisoned ingredients," writes Kramer. "I challenge you to leave his orbit. The very health and existence of your extended family is in peril."
You can read the whole post here.