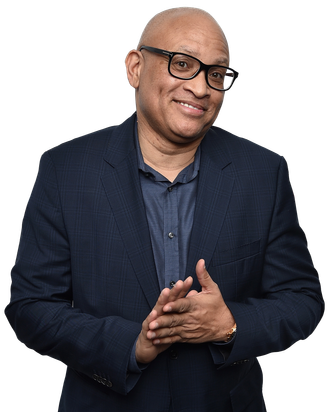 Photo: Dimitrios Kambouris/Getty Images for The New Yorker
On Monday, Comedy Central announced that they'd decided to cancel The Nightly Show With Larry Wilmore after a little over a year and a half on the air. Though the news wasn't surprising from a strict ratings standpoint, it was surprising considering the election is only a few months away, and to his fans, Wilmore had established himself as a specific voice in a crowded field. And while it may not have helped the show's segments go viral, Wilmore covered politics with an evenness and rationality that will sorely be missed. Another thing that will be missed was his commitment to the type of diverse voices still rarely seen on television. Vulture spoke with a noticeably glum Wilmore after the taping of his third-to-last show about what he's most proud of, roundtables, and his final word on a certain nominee for president.
How are you?
I'm great. Thanks for asking, man [laughs].
What was your immediate reaction to finding out Comedy Central's decision? 
They took me to a Chinese restaurant and gave me a fortune cookie and said, "No, no, no. Open it, open it." And I was like "What?" I opened it and it said "You're canceled," and I was like, "What?!" … Umm, I was very surprised that we would only have four shows left. I thought we would at least be on through the election.
Was it at all mentioned as a possibility over the last few months?
Nope. Nope. Nope. Nope. They had not really been in communication, so I didn't know what they were thinking.
Given how unexpected it is to even have this show happen in the first place, what is your feeling about the news now that you've had more time with it?
I'm still very thankful for being able to have this opportunity. It is very rare. I did Charlie Rose's show tonight and we talked about how rare it is to be in that type of seat. And it's true. So whenever you're given the opportunity, you have to take it with that humility ingrained in it, knowing that not everybody gets the chance to do it, and you appreciate it while you have it.
Are you wavering between being thankful and frustrated?
No, I'm disappointed. It's television, and it's how it gets measured — numbers. It's very disappointing because you can only do the best show that you can do, and if the stars don't align, I can't argue back at them, saying, "No, you're wrong, the numbers are great." What can I really say? I'm not angry at them. I'm disappointed that it didn't work out well.
Did Jon Stewart have any words of wisdom?
Jon is not a wise man. I don't know why people assume that. No, we had a good talk. We commiserated about it. And, you know, he's just as upset.
Last night in the N-word debate segment you guys joked about how there couldn't be a show that talked about race because "too much of that shit makes white people uncomfortable." Do you feel like white people's discomfort talking about race or even people in general ultimately hurt the show's numbers?
I don't know. Who knows? I mean, our numbers were great when Jon Stewart was there, so I don't know. I could make the argument that Jon not being our lead-in hurt our numbers. There are a lot of ways you can make the argument. There were a lot of people who really appreciated the fact that we tackled those subjects. And there are some people who are never going to like that no matter what you do. So it's hard to point to one thing. "Well, you shouldn't have talked about that, and you would've done a good show." And it's like, "Thanks, but I'm not going to have a unique show."
You guys scaled the roundtables back a little bit, and I know some people saw it as something that was a flaw or that couldn't catch on. I wanted to hear your defense of having a roundtable.    
I don't know if I would ever defend it. It was a format that Jon Stewart pitched for the show. His original idea was to have the whole show like that. But as we were developing it, I felt like I needed to weigh in on the events of the day, that the audience would want to hear from me, and that that would be important — that if all I did was a roundtable, I'd be more of a ringmaster, and I wasn't sure if that would be the best use of my time. So then it became not as big. And the more time you reduce from that, the less you can really have an effective roundtable. It's a very tough thing to produce and make effective. And it's going to be iffy when you have a short amount of time. How do you generate a great talk in five minutes? Bill Maher talks for 40 minutes. There's just a huge difference. Sometimes we made it interesting, sometimes it was very challenging.
What are you most proud of with the show? 
I am the most proud that we set out to do a show to present voices that rarely get a chance to be heard on television, people who don't get to be seen all the time, and to take the underdog perspective a lot of the time, and to tackle tough issues like race or even class when there are so many people who are feeling left out in the country right now. And gender. That's one of the most important issues right now. Who would've thought that we'd be talking about who could use what bathroom these days. We had a segment called Tampon Tuesdays that I was very proud of; that was hilarious because there are a lot of women's issues out there that a lot of people don't know about because they're not women and they don't have to go through them [laughs]. It was great that we could highlight that. We dropped all these tampons on my head. It was really stupid, but funny. Those kinds of things I was very proud of.
To that point, it's sad that the show is ending, but there is something really nice about you giving a spotlight to this diverse staff, that you hope would now, because of this exposure, be able to get other jobs. How does that legacy feel to you?
That would be great. And you're absolutely right. I've done that every time I've left a show from the first show I created, The PJs. I set out to have a diverse staff on the Bernie Mac Show. This show I also brought on our director, Andre [Allen]. And I had women of color. Robin Thede, to be the head writer of a late-night show, that's ridiculous. That doesn't exist out there. And there are many women in producer positions on our show. It really is a very diverse staff, which I'm very proud of. We did all those things on purpose, not by accident. We were like, "No guys, there's a way to do this consciously. You don't have to be unconscious."
This isn't the first show you've created, but it is the one that has your name on it. If this were ultimately your legacy, how would you feel about the show in terms of capturing your worldview and what your comedy is?
That's really interesting. It catches some of it. But I've expressed myself in different forms, so it doesn't catch all of it. There are jokes I've done on Living Color and on The PJs that I can never do on this show that is definitely my sense of humor. There are types of jokes I would do on The Bernie Mac Show or The Office that would really show my sense of humor but wouldn't work here. Stuff that's more insight into behavior or how we interact with each other as people, because that's a huge source of my sense of humor. But this show is more my view of the political process or the issues of the day. It's more editorial. It's definitely one side of me, but it doesn't represent the whole of me.
Is part of you now itching to go back to that other side of you?
Absolutely. I'm looking forward to that, actually. That's one of the plus sides of this, ironically, that I'll be able to do some of those things again that I really enjoy — telling those types of stories. And creating more opportunities, too. When you're doing these shows, you're creating opportunities for people. I'm co-creating Insecure with Issa Rae on HBO, which premieres in October. I was very proud of that. We've created so many jobs for so many people.
Yesterday you asked your panel about their favorite thing, by which I mean least-favorite thing, Trump has done. What upset you the most?
For me, it was right in the beginning, when he tried to dishonor John McCain. C'mon, here's a guy who's been in a war, had his arms broken, refused to go home unless everybody would go home. His bona fides as a hero should not be questioned. And the way he denigrated him, I could not believe that you could do that as a Republican and you would get one vote. I thought he was disqualified from that opening statement. That might've been right after the Mexican rapist thing. So, he had me at hello. I didn't need any more than those two incidents. That was terrible. And then he followed it up with the gold-star-parent thing. But that's how he thinks. He has no respect for those families. If you're against him, he doesn't care what you've done.
How do you think you'll follow the election now?
I've always watched the political shows. I'm sure I'll eavesdrop on a couple of shows here and there. And I think maybe I'll find a way to comment on the election in some forum.