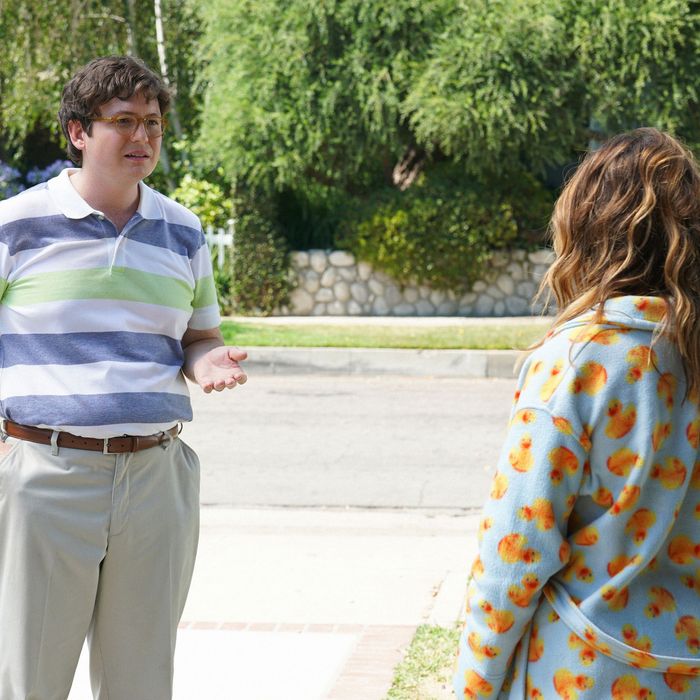 Spoilers ahead for the season-three premiere of You're the Worst.
Creator Stephen Falk doesn't usually reveal much about You're the Worst to its actors before they start shooting, but at the FX upfronts party earlier this year, he told Kether Donohue that her character Lindsay "does even more effed up shit this season than she did last season." What, exactly, could be more effed up than trying to artificially inseminate yourself with a turkey baster?  Donohue didn't find out until FX president John Landgraf himself spilled the beans at the same party. "Kether, you are going to have a blast this season," he told Donohue, who couldn't help but press for more information: "Lindsay stabs Paul."
Paul, played by Allan McLeod, is Lindsay's husband, the hobby-obsessed homebody to her (somewhat) reformed party-girl. The stabbing, which takes place at the end of the episode, is like a crime in Clue: in the kitchen, with the knife, as the birdsong podcast plays in the background. Donohue told Vulture that Falk and director Wendey Stanzler had specific choreography in mind. Imagine a dance sequence in Grease, but about marital strife: Look at the speakers, look down, chop the mushrooms, now stab. "Stephen wanted it to be very unexpected," she said. "A quick poke."
Donohue used a real knife and had to aim for a specific part of McLeod's body that was protected by a rubber sheath, which took a lot of trust on the part of both actors. "It was apparently impenetrable to knives, but Kether is very strong, so I definitely felt something," McLeod joked. "I don't know if it was psychosomatic or what."
To a certain extent, McLeod also saw the twist coming, as Lindsay and Paul's relationship has steered close to disaster. "I had been mentally preparing myself for something crazy to happen to Paul since season one," he explained. "There's just so many reasons why Lindsay might want to bump him off at any moment." Paul, however, is on a very different page. In season three, his paternal instincts kick into full gear. Last season, Paul found love with his equally dorky pal, Amy, but threw it away when Lindsay revealed that she was pregnant with his child — not because of the turkey baster, but because Paul has semen potent enough to do the job after 37 seconds of sex.
If Gretchen and Jimmy, the couple at the heart of You're the Worst, defy convention only to realize parts of conventional love might be appealing, Lindsay and Paul face the opposite realization. Deep down, as Donohue pointed out, Lindsay doesn't wants to commit to life with Paul, or to have a kid, but she's trained herself to believe that she does. "All her motivations for having that life were for the wrong reasons," she said. "Whether it was to compete with her sister, prove something to her family, or just escape from herself."
As season three opens, Lindsay suffers in silence while Paul tries to connect with her. He throws away his recumbent bike. He smothers her with attention. So when Lindsay acts out, it's a weirdly honest bit of communication. And when, in a later episode, she takes to treating Paul's wound, which is depicted with some truly gruesome prosthetics, Lindsay even tries her hand at sympathy, though her home remedies leave something to be desired. (We won't get into the details of that episode, but suffice it to say that McLeod found it "easy to act in extreme pain, the way Kether was grimacing.")
There's another key You're the Worst theme floating in that moment, too: It feels good to self-destruct. "After I stab him, I was playing it as if I was in this psychotic state," Donohue said, "but Stephen was like, 'No no, now your face falls, and it's as if you just released all the tension.'" It's like a popping a zit, or as she put it, injecting heroin. "Ah, okay, finally I can temporarily be alleviated."