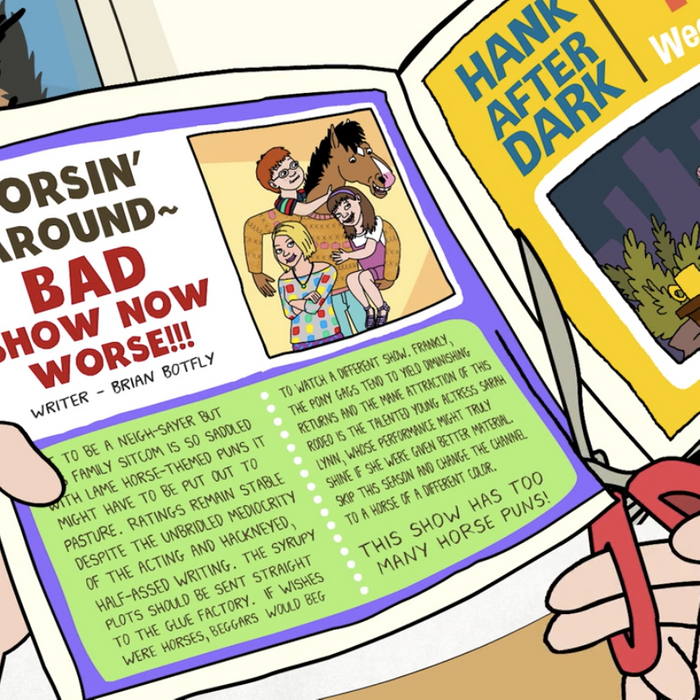 Few shows take advantage of the streaming era like BoJack Horseman. The Netflix series is rightly celebrated for its depiction of mental illness and its complex worldview, but in a fundamental way, it's driven from moment to moment by some of the greatest blink-and-you'll-miss-'em sight gags on TV. The BoJack team stuffs dozens and dozens of these visual jokes into each episode, making it the ideal show to watch, and rewatch, with frequent pausing in between.
Much like the show's love of puns, there's an art to all that visual humor. Some jokes smack the audience in the face; some hide in the background; some come without any explanation, just because they're good goofs. Vulture asked BoJack lead designer Lisa Hanawalt to share some of her favorite sight gags, and she kindly obliged.
"Fight Club is a good and important movie."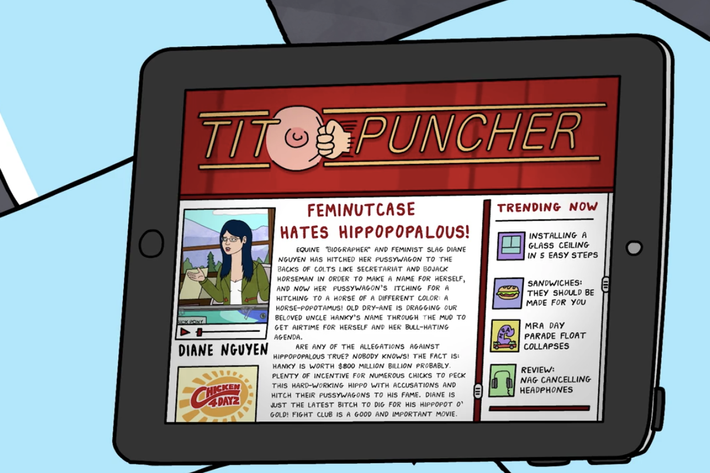 In the second season's "Hank After Dark," Diane Nyugen gets pulled into a media controversy about Hank Hippopotamus, a talk-show host who remains wildly popular despite grave accusations against him. (The story line calls to mind Bill Cosby and David Letterman.) Diane's criticism soon draws the attention of Titpuncher, a trashy men's-rights site that's briefly shown onscreen. "We could just have little scribbles to show for text, but with every background, if we have the opportunity to write something funny in there and add a joke, why not?" Hanawalt says. She wrote most of the text, supervising director Mike Hollingsworth added the jokes on the side, and showrunner Raphael Bob-Waksberg came up with the Fight Club kicker. "It was just so perfect," she says.
Brian Botfly, TV Critic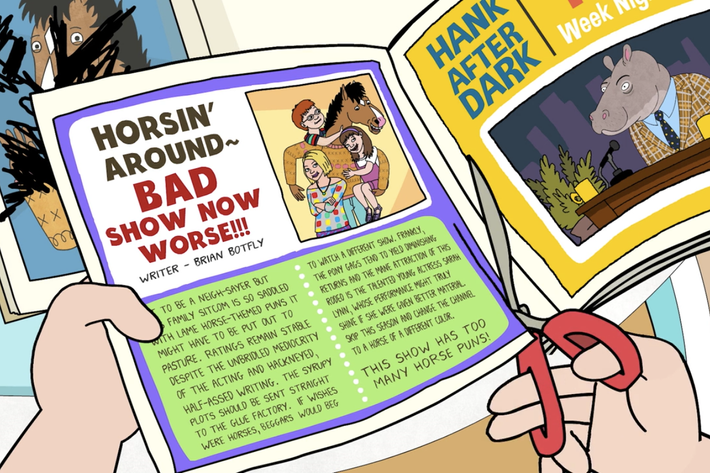 In the second season's "Still Broken," Herb Kazzaz is shown clipping a review panning Horsin' Around. Hanawalt wrote the text, and says it was inspired by a real critic: "There's actually a particular reviewer who I don't like — I won't say his name — but he had written some articles about female comedians that I found really sexist. He'll call something hack, but then use the worst puns ever in his reviews. That is a direct parody of him. It was like a petty jab at him." Oh, and botflies? Horses hate them.
"How to Share"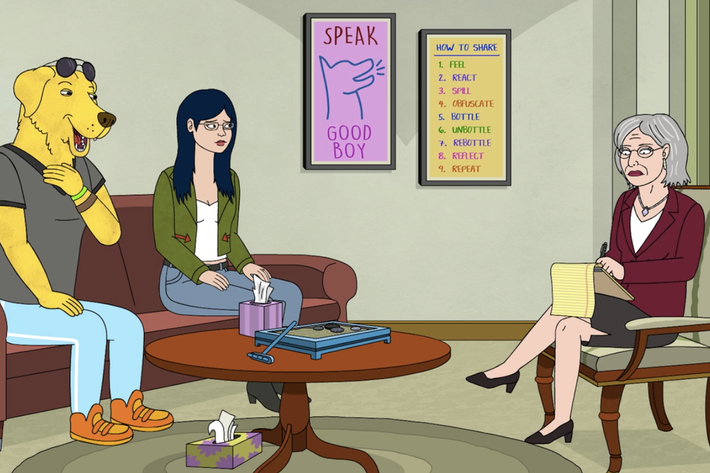 In the third season, we're introduced to a couples therapist named Dr. Janet, who has a particularly counterintuitive poster on her wall. "I don't know if other people find it as funny as I do, but it's parodying the idea of having a list of steps for something that's so emotional," Hanawalt says. "Also, that a list like that would instruct you to bottle up your feelings, then unbottle them, then rebottle them — that's funny to me. It's a little bit off. I like wordplay like that."
The Starbucks Menu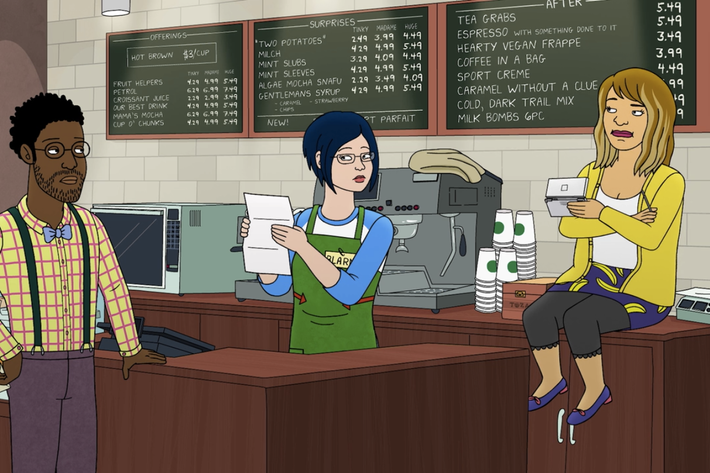 In the extended flashback to 2007 that anchors The BoJack Horseman Show, Diane works at a Starbucks selling everything from "gentleman's syrup" to "milk bombs." It's as wonderfully silly as BoJack gets. "Raphael was just like, 'Lisa, write some of your hilarious nonsense.' So I just ran with it. My favorite menu item is "two potatoes" in quotation marks. I don't know what that is," she says.
Pacific Ocean City
"Fish Out of Water" is an almost totally wordless episode, unlike anything BoJack had ever done, which meant even more opportunities for Hanawalt. "I had a lot of fun with the character designs in that episode because I was trying to pack as many underwater creatures in there as possible. It was really last-minute, and I was like, 'Come on, we need at least one rainbow parrotfish!' It's one of my favorite kinds of fish."
Her favorite sight gags from the episode include this parody of a George Bellows painting: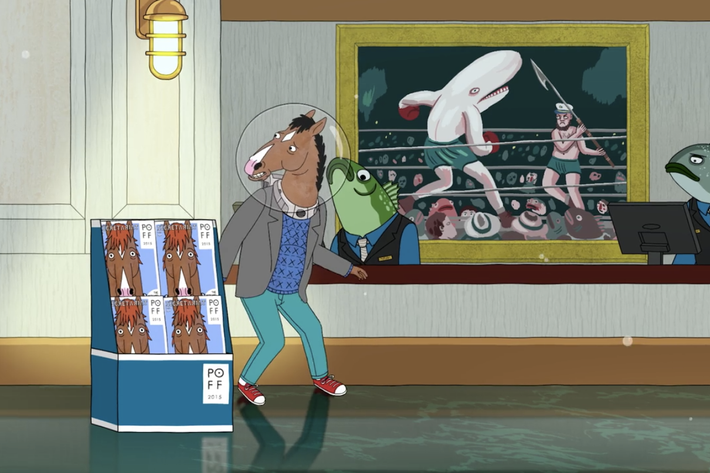 The jellyfish who hangs out with BoJack in the lounge: "She's only there for a second, but she's really pretty."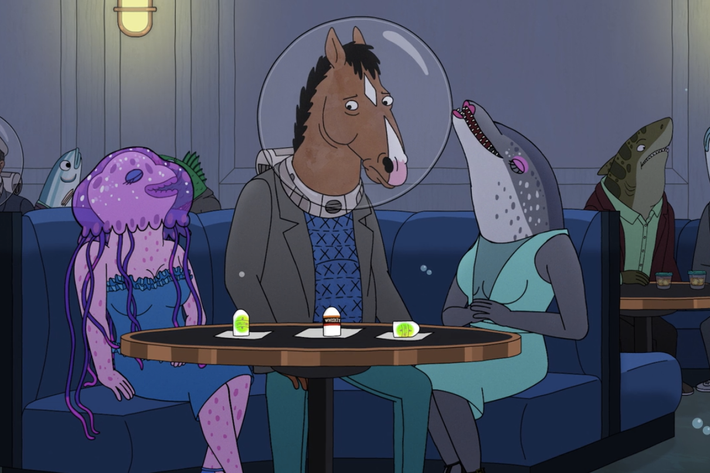 And a Disney deep cut to end all Disney deep cuts: "There's an ad for a restaurant called Le Poisson Le Poisson Hee Hee Hee — it's a line from The Little Mermaid."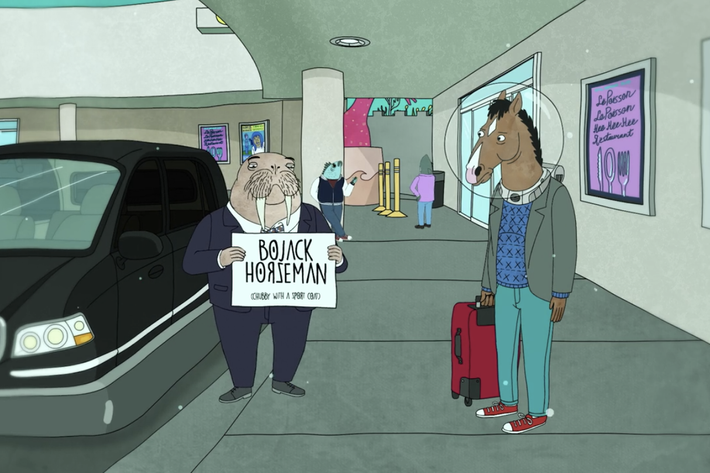 Princess Carolyn
In the latest season, eagle-eyed watchers might notice that Princess Carolyn stocked up her office bookshelf with some new reading material, including Purrsepolis, Me Meow Pretty One Day, and Purrity.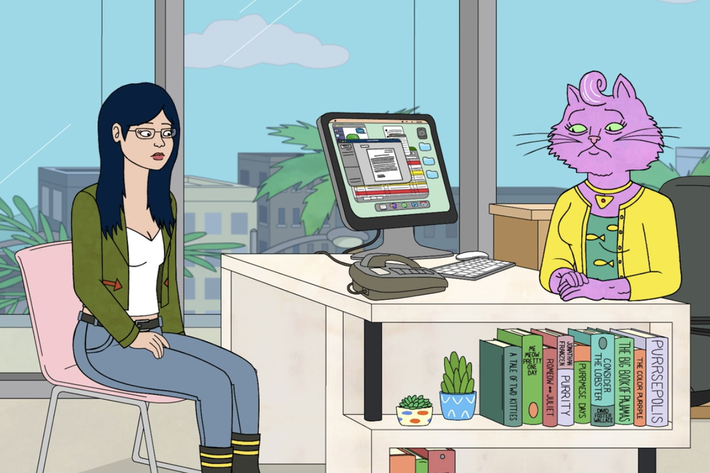 So, is Princess Carolyn a fan of Jonathan Franzen? "Yes and no. He has a problem with cats, doesn't he? It's complicated. I think she enjoys his fiction, but she doesn't like him as a person," Hanawalt says. "Maybe I'm projecting."
Back at her apartment, Princess Carolyn has an equally fitting collection of movie posters — When Tabby Met Snappy…, Cat on a Hot Tin Roof — and one that doesn't quite fit: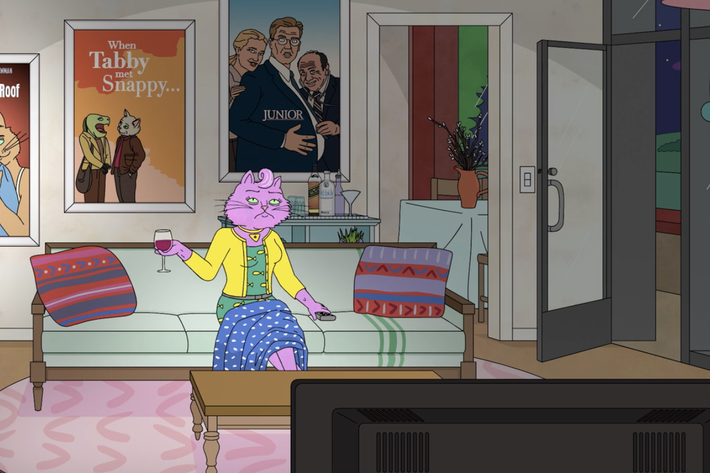 "There's a poster for Junior. It's not a pun, and it's not explained why it's there," she says. "To me, that's just the funniest joke. I don't think it's a great movie or anything. It's not one you would normally pay an homage to, so I think that's so funny. Maybe she worked on it? Who knows."
Ben Chunch
"I'm weirdly obsessed with Martha Stewart's pony, Ben Chunch, so I designed a character for him," she says. "You can see him in the background — his sweater is embroidered with his name." And if that's not enough Chunch for you, check out the podcast Hanawalt co-hosts — he's a frequent subject.
Rounded Corners Prep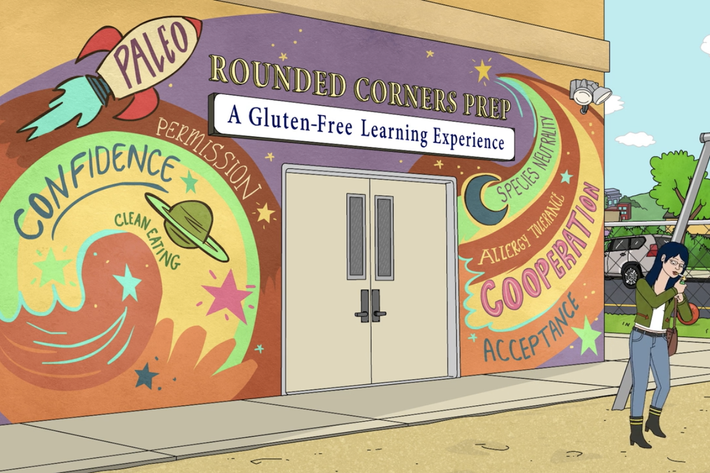 In season three's "BoJack Kills," BoJack attends an elementary school's "all-inclusive non-denominational winter day pageant" in hopes of pandering to Academy voters. "I gave the designer a list of words I wanted on there, like clean eating, paleo, allergy tolerance, species neutrality — kind of like the stuff you'd find in a Silver Lake elementary school," Hanawalt says. "I was like, 'Can the word paleo be inside of a rocket?'"
The Oscars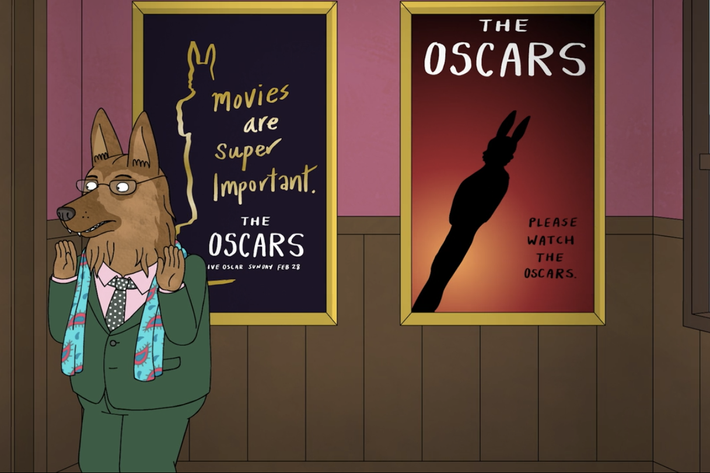 BoJack regularly skewers Hollywood culture, so it's no surprise that season three makes joke after joke at the expense of the Oscars. For "It's You," Hanawalt riffed on real Academy posters to make the point just a bit sharper.