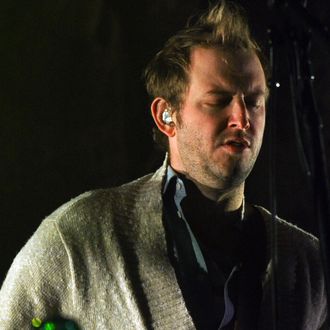 Photo: Kevin Winter/2012 Getty Images
The wait is over! And no, we're not talking about the wait for a Frank Ocean album, because that would just be crazy. We're talking about Bon Iver — a band that, unlike Ocean, gives the people more than just a livestream of their weekend home-improvement projects. Back in June, the group tweeted that they would be playing "a set made of NEW music" at the Eaux Claires Music & Arts Festival in Wisconsin, an event going on this very weekend. Bon Iver headlined the Friday lineup and, as promised, played a set of brand-new material that will comprise their next album, called 22, A Million and set to drop September 30.
This is the first album from the group in four years, and while the two tracks available for listening now are thick with longing and still have that familiar, cabin-in-the-snowy-woods sonic profile of Bon Iver and For Emma, Forever Ago, the new songs also have a distinct kind of strangeness about them, particularly "10 d E A T h b R E a s T ⚄ ⚄." There was speculation for a while that the band would never come out of hiatus, and that we would have to get our melancholy fix from Volcano Choir and Justin Vernon's collaborations with Kanye West. But Vernon clearly knew that James Blake couldn't be the only Narnia expat making beautiful music for people of the earth realm, so he got the band back together. Here is the crazy track list for 22, A Million, as well as the two new songs.
22 (OVER S∞∞N) 

10 d E A T h b R E a s T

⚄

⚄

 

715 - CR∑∑KS 

33 "GOD" 

29 #Strafford APTS 

666

ʇ

 

21 M◊◊N WATER 

8 (circle) 

____45_____ 

00000 Million