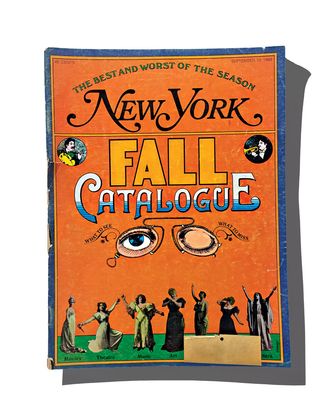 First "Fall Preview" cover in September 15, 1969.
New York's first "Fall Preview" ran in the magazine's very first year, 1968, and first appeared on the cover in 1969. The prediction game is a tough one—what's going to succeed? What's going to flop?—but we have mostly been good at it, and occasionally quite prescient. And then, sometimes, we … weren't. A representative sampling.
1968 / Fashion
"The pants suit is the over-all thing, anyplace, anytime. Restaurant owners and other conservatives might as well make up their minds that it will be around for a while. Women who have been longing for a new look, something other than longer skirts, have found the change they crave in pants."
1975 / TV
"Welcome Back, Kotter: This has a guy returning to his old school after the neighborhood has changed for the worse (as 88 percent of the population defines these things. Twelve percent of the population might think it has changed for the better). If Joe and Sons, the new show opposite this one on CBS, is as bad as the promotional spots for it suggest, Kotter has a real chance."
1975 / Music
"Isaac Hayes: Hard to decide whether this entry belongs under pop or pumping iron. At any rate, Isaac Hayes, the man who took the soul out of Soul, will perform at the Felt Forum, September 13–14. Advance reports suggest that he continues to groan and grunt with undiminished zest, and it is rumored that, on this latest engagement, he will attempt the musical equivalent of the 1,000-pound lift, jerk, and press."
1990 / TV
"Think of Fame with guns. Although the advertising agencies have their doubts about Cop Rock, and so do several ABC affiliates, executive producer Steven Bochco is happy as a kite … When cops bust some drug dealers in a Watts-like section of Los Angeles, they're surrounded by street people who burst into menacing rap. When the mayor of Los Angeles accepts a bribe from a developer who will build her a brand-new jail, she does a Hello, Dolly! production number, dancing on her desktop. When the jury brings in a guilty verdict against a sleazeball, first the judge, then the jury, and finally the spectators rouse the whole courtroom into gospel … Terrific television."
1986 / Architecture
"This summer, Donald Trump, facing protracted guerrilla warfare with Upper West Siders opposed to his scheme for Television City … called on [architect Alexander] Cooper to redesign it … Cooper is replacing Trump's original master planner, Chicago's Helmut Jahn. 'The problem with Jahn's plan,' says Trump, 'was that it was both loved and hated. Cooper is good at working with the community. I don't want to take the best piece of urban land in America and do something urban America doesn't like. This plan could be one of the classics.' [But] Trump is celebrated for ignoring his advisers."
1976 / Movies
"Rocky: This could be the sleeper of the year …"
1980 / TV
"Hill Street Blues can only be either great or awful, and you know where the odds point. An embattled bunch of cops work the night shift in a precinct in the heart of the ghetto. Daniel Travanti is Captain Furillo (not Carl, I hope), described by NBC as 'a two-fisted-yet-sensitive leader usually under fire from all quarters,' possibly soon to include yours."
1995 / Computers
"Bytes, camera, action: Connectix Corp.'s QuickCam is a camera that lets you shoot photos and movies that you can send out on the Net directly, without feeding them into a scanner first. You can take pictures for video conferencing, live Web pages, and video mail."
1974 / Movies
"The Godfather, Part II: One good box-office turn deserves another; if this one succeeds, can Son of Love Story be far behind?"
1997 / Theater
"The Lion King: Elton John and Tim Rice have composed three new songs … and Roger Allers, who co-directed the 1994 animated feature film, has adapted the book. If all this sounds nice but unmoving, read on: Julie Taymor, the downtown director who was multicultural long before it was fashionable and psychedelic long after, has reconceived the popular animated feature for actors wearing Japanese, Thai, and African masks, and she has recast the Serengeti in the colors of the tropics."
1994 / TV
"The Cosby Mysteries: Great cast: Bill, James Naughton, Rita Moreno, Lynn Whitfield. Great locations: actual New York (filmed on the Chelsea Piers). Great writers, producers, directors. But why is Cos called a 'criminalist'?"
1993 / TV
"The X-Files: FBI duo. He's unconventional; she's skeptical. Repartee, paranormal phenomena."
1991 / Movies
"Klingons abound on what is purportedly the final adventure of the starship Enterprise. In addition to seven original cast members, Star Trek VI: The Undiscovered Country boasts the model Iman as a changeling and actress Kim Cattrall resurfacing from the Bonfire of the Vanities debacle as Spock's love interest."
2000 / Theater
"Seussical: … In the works for several years, it's already being touted as the next Lion King."
1989 / Nightlife
" 'They've got much older,' Mick Jagger laughs … But not too old to rock, and this fall the Rolling Stones are back on tour. Also on the road are a host of other acts spawned by the sixties — Ringo Starr, the Who, Jefferson Airplane, even Canned Heat and Steppenwolf — but Jagger is quick to distance his group from the others. 'Everyone wants to make a buck,' Jagger says. 'It's different with us.' "
*This article appears in the August 22, 2016 issue of New York Magazine.