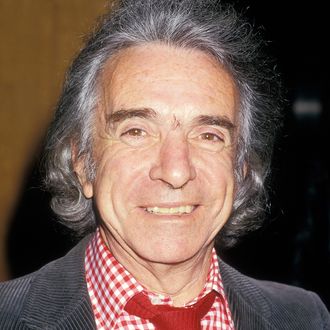 Hiller in 1987.
Photo: Ron Galella, Ltd./Getty Images
Arthur Hiller, the filmmaker who helmed '70s classics like Love Story, The Out-of-Towners, and The In-Laws, has died of natural causes at the age of 92, THR reports. Hiller's death was announced by the Academy of Motion Picture Arts and Sciences, of which he served as president from 1993 to 1997. Hiller was born in Alberta, Canada, and served as a bomber navigator in the Royal Canadian Air Force during World War II; after the war he served as a producer and director in the Canadian broadcasting industry. He moved to the United States in 1955 and soon began directing episodes of shows like Playhouse 90, Perry Mason, and Gunsmoke, as well as the pilot episode of The Addams Family.
Hiller's career in features began with the 1957 Dean Stockwell romance, The Careless Years, and the next 50 years saw him amass a diverse filmography that also included the caper comedy Silver Streak, the sports biopic The Babe, and the Hollywood satire An Alan Smithee Film: Burn Hollywood Burn. (Like the protagonist of that film, Hiller was so dissatisfied with the final product that he took his name off the credits.) Hiller also served as head of the Directors Guild from 1989 to 1993, and received the Academy's Jean Hersholt Humanitarian Award in 2002. As he said in his acceptance speech, "It's so embarrassing to receive an award for doing what you should be doing, but I must admit it pleases me greatly." His death comes only two months after that of his wife of 68 years, Gwen Hiller.