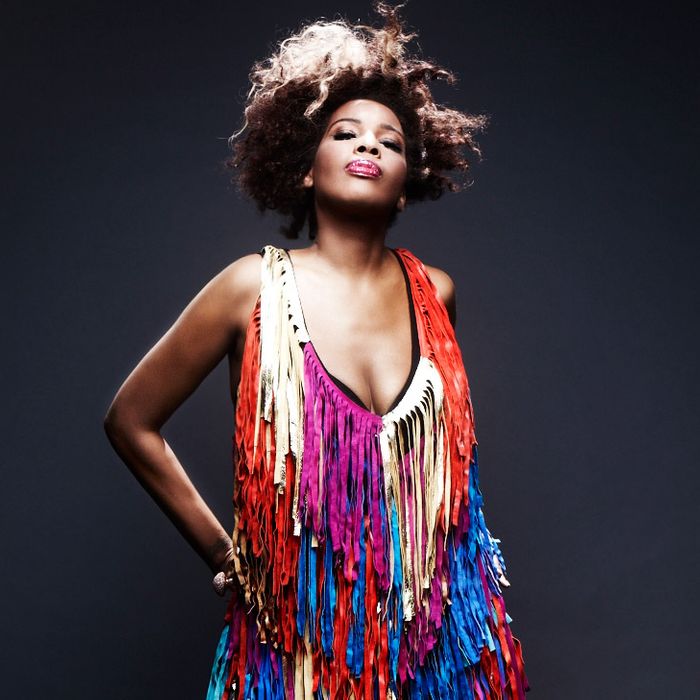 For the better part of a decade, Macy Gray has been playing the disappearing act. Since winning a Grammy in 2001 for her soulful breakthrough hit "I Try," she's largely retreated from the public eye, finding the spotlight too harsh. Every now and again, when the mood strikes, she pops back in to regain her bearings in the industry. Over the last six years, she's released four albums — including a recreation of Stevie Wonder's Talking Book and another covers album, along with two originals — while also building up a respectable IMDb page. (Earlier this year, she even cameoed as herself in an episode of Fuller House named after her.) Most recently, she got another big break guesting on Ariana Grande's "Leave Me Lonely," channeling Nina Simone for the occasion. On September 9, she'll release Stripped, the latest entry in her songbook of covers — except now she's taken to covering herself.
It's a collection that revisits songs from Gray's complex and rich career (including "I Try"), performed now as if she were on the marquee at a local jazz club in the '30s. All of the songs were recorded live on-site at a decommissioned church in Greenpoint, Brooklyn, free from the bells and whistles of a studio. Production is sparse and the church's echoes slip into the audio, but Gray's recognizable rasp shines. Today, Vulture premieres one of the two covers from Stripped, Metallica's 1991 classic "Nothing Else Matters," a more faithful version of which Gray performed for 2012's Covered. We talked to Gray about why she can't shake this particular Metallica song, navigating the music industry, Meghan Trainor's songwriting, and why she's obsessed with Rihanna.
"Nothing Else Matters" seems to have continuously inspired you creatively for around five years. Why this song?
I like what it means to me. You never fully know what the writer was thinking, but for me, it's this thought of where we could all be in the way that we approach things, see things, and deal with things. You're just reminded of what's important and what really matters at the end of the day. And it's so pretty. When it first came out, I wasn't a big heavy-metal fan — I always liked Metallica, but that wasn't my favorite song by them. I'd never really listened to the words — and lyrics are the most important part of a song — until someone was performing it at this nightclub. It was a non-heavy-metal version, so you could really hear the words he was saying. I just really fell in love with what that song means to me.
You came up in jazz clubs.
I'm naturally a jazz singer, that's how I learned how to sing and most of my influences are from jazz. I just got tripped up on doing pop music, so I'm kind of this undercover jazz singer that has written some popular songs. But, really, my style and the way I phrase and write is often from jazz.
You've periodically stepped away from the industry and have famously had a contentious relationship with record labels. Was it an act of creative freedom to make Stripped?
Well, actually, this wasn't on my own terms. That's why I haven't listened to it yet. This is the most controlled album I've ever done. The label has been really hardcore on the way they want it to be, so it's probably been the album that's the least in my hands. I'm used to having much more of a say in how things come out, and this was all raw. There were no fix-ups, no edits, no mix! Any mistake or flaw, it's just there with nothing to make you sound better. But I like performing, I love jazz, and it was something that I hadn't done before. As a writer, you try to do adventurous things that people wouldn't expect and always keep growing. It was a personal thing, on that level. A couple songs were nostalgic and some covers I just knew inside and out. Some songs I was still pissed that they never got a chance to be a major hit, so I put those on there [laughs].

And you're already working on another album?
I'm doing a regular pop record that should be out next summer. It's really remarkable, we're doing stuff no one's ever done. I really wanna make one of the greatest albums ever made. You see those lists and I always get pissed that I'm not on them. That's my goal. I'm thinking of going back to having just one producer, like my first album [1999's On How Life Is]. Those are not only my most successful albums, they're also my most complete. And we have Meghan Trainor — she's like this insane writer! She's like the new Carole King! I don't know if anybody even knows, but she writes hits in like five minutes.
Has being featured on Ariana Grande's "Leave Me Lonely" introduced you to a new generation of fans?
Oh, yeah, my Twitter went crazy after that song. They're all Ariana Über-fans. But I have kids her age, so I'm kind of hip to how they roll and what they listen to.
Who are you listening to?
Of course, Rihanna. Who's the red-haired kid with the guitar?
Ed Sheeran?
Ed Sheeran! I loved his album. I'm a huge Bieber fan, always have been. Like everyone, I'm a Drake fan. I'm a music fan. They try to make it about age, but if you hear a poppin' song, you don't stop and think, I wonder how old that person is? Either you like it or not.
What are your favorite songs so far this year?
"Needed Me" by Rihanna. I'm obsessed with it, I learned how to play it on the piano. I could just live with that song all day.
This interview has been edited and condensed.