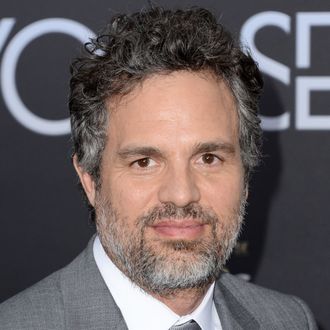 Photo: Andrew Toth/Getty Images
On August 28, trans actress Jen Richards took to Twitter to share her thoughts on why she disagreed with actor Matt Bomer being cast as a transgender sex worker in the new movie Anything, which is being produced by his Normal Heart co-star Mark Ruffalo. But her issue isn't with Bomer, specifically. It's with cis men being cast to play trans women at all. Over the course of many tweets and several days, Richards explained that cis men playing trans women results in trans women not being given the opportunity to play trans roles, and that the pattern runs the risk of inciting violence against trans women by perpetuating the notion that trans women are in fact just men pretending to be women, and not a legitimate gender class of their own.
She went on to cite Jared Leto's casting in Dallas Buyers Club as a problematic case, in addition to lauded performances by actors like Jeffrey Tambor and Eddie Redmayne. Richards then called out Mark Ruffalo, who recommended his former co-star for the part in Anything, and Bomer specifically for their role in perpetuating what she asserts is Hollywood not so much being accepting of trans people as much as it's cashing in on the trans story and then pushing cis actors for awards campaigns.
Richards apparently auditioned for the part in Anything, which she clearly did not get, and said in her tweets that she has even lost out on roles for not being "trans enough" in the past. So she asked the actors for an audience by tweeting out, "I would love to sit down with ‪@MattBomer & ‪@MarkRuffalo to talk this through, clearly, honestly, & compassionately." And today, Ruffalo responded with tweets of his own and acknowledged her concerns.
Richards is the writer, producer, and star of the web series Her Story, which has been nominated for an Emmy in the Outstanding Short Form Comedy or Drama Series category. She responded to Ruffalo's tweet with thanks, and said she was ready to start a dialogue about the concerns of her community, so now it looks like the ball is in Ruffalo's court to make good on his calls for compassion.