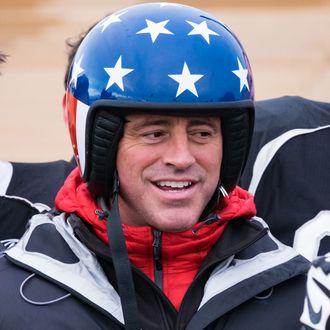 Photo: Mark Yeoman/BBC Worldwide Ltd.
As the Top Gear vs. The Grand Tour schism continues to grow wider, the current months-long fiasco surrounding the rebooted Gear hasn't particularly helped smooth things over — critical reception and ratings have been at all-time lows for the famed motoring program, while one of the main presenters, Chris Evans, abruptly quit the show after a single season. (He tweeted: "Gave it my best shot but sometimes that's not enough. The team are beyond brilliant, I wish them all the best.") Now, making an appearance at CBS's Television Critics Association presentation earlier today to promote his new comedy Man With a Plan, Gear's other main presenter, Matt LeBlanc, expressed skepticism over whether he too would be returning.
"I'm not sure what's happening on Top Gear yet," LeBlanc told the audience, according to Deadline. When a spectator specifically asked him if he would be returning for an upcoming season, LeBlanc responded, "I don't know. I'd like to. Nothing has officially happened yet. Call BBC." This comes as a bit of a surprise, as it was previously reported by multiple news and trade outlets that LeBlanc was in negotiations to return to the show's 24th season as the primary host. Hey, things could be weirder, we suppose.