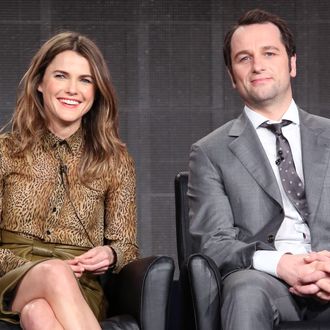 Can you become a new version of you?
Photo: Frederick M. Brown/Getty Images
The Americans power couple Matthew Rhys and Keri Russell have two shiny new Emmy nominations, a charming home in Brooklyn, and also a new baby. Rhys occasionally jets off to Europe to drink wine, and in their joint Hollywood Reporter interview, the two seem happy. There's just one tiny problem: Matthew Rhys hasn't seen Felicity, the show that introduced Keri Russell to the world. He's seen people accost Russell on the street and tell her how much they love the show (sorry about that, Keri), and he's realized how much of a "a rite of passage, seminal piece of work it was in the U.S." But, when asked if he's actually seen said seminal WB series, he responds, "Sadly not. I mean, I've watched parts of it on YouTube."
Matthew. Matthew. Fix this right now. Get yourself a Hulu account. Start with the pilot, written by J.J. Abrams, which allows one Felicity Abrams to make a profoundly stupid life choice without judging her (So good! So rare on TV!). Then roll straight into the great Ben and Noel debate with episodes such as "Hot Objects," "Spooked," and "Thanksgiving." And if that hasn't convinced you, enjoy J.J. Abrams's directorial debut on "Todd Mulcahy" parts one and two. Now, we know that people think Felicity falls off after she cuts her hair in season two, but Keri Russell herself said, "I still stand by it. I loved it for the character." She's not wrong. After the infamous haircut we still get Lisa Edelstein, a messy documentary plot, and time travel. We repeat, Time. Travel. Matthew, have fun, and let us know if you'd like to write some recaps.
(Also in the interview, Keri Russell says that she hasn't watched Brothers & Sisters. This is fine.)