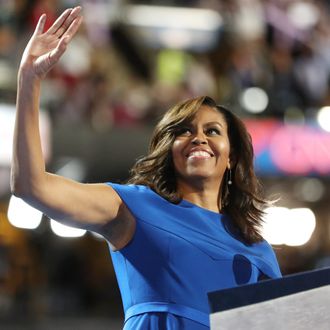 Michelle Obama.
Photo: Joe Raedle/Getty Images
As her time in the White House draws to a close, Michelle Obama spoke to Variety about engaging with popular culture as First Lady, in what the mag calls a "carefully planned strategy" that's seen her dance with Jimmy Fallon, sing on James Corden's "Carpool Karaoke," and even pop up on Billy on the Street, an appearance she still can't quite believe she did. ("You know, that's when I thought, This is crazy.") These appearances were meant to promote her healthy-living initiatives, but deeper in the interview Obama also gives a strong argument for why it's been important for her to put herself out in the pop-culture sphere. "For so many people, television and movies may be the only way they understand people who aren't like them," she says. "And when I come across many little black girls who come up to me over the course of these 7 ½ years with tears in their eyes, and they say: 'Thank you for being a role model for me. I don't see educated black women on TV, and the fact that you're first lady validates who I am.'"
And because of America's long history of housing segregation, Obama says, cultural representation is even more important:
People [like the Obamas] who come from intact families who are educated, who have values, who care for their kids, who raise their kids — if you don't see that on TV, and you don't live in communities with people like me, you never know who we are, and you can make and be susceptible to all sorts of assumptions and stereotypes and biases, based on nothing but what you see and hear on TV. 

[…] There are folks who now know black families — like the Johnsons on Black-ish or the folks on Modern Family. They become part of who you are. You share their pains. You understand their fears. They make you laugh, and they change how you see the world. And that is particularly true in a country where there are still millions of people who live in communities where they can live their whole lives not having contact or exposure with people who aren't like them, whether that is race or religion or simply lifestyle. The only way that millions of people get to know other folks and the way they live … is through the power of television and movies.
If you're wondering why it seems like we talk so much about diversity, this is why.